Old School, New School
A look into the differences between the county's oldest school and one of its cross-town modern counterparts
Built in 1956, Loudoun County High School is the oldest in the county. It has been through numerous renovations and rearrangements and is
known for its iconic front with four columns and a cupula. But with that history come challenges. From leaking ceilings to a lack of charging stations for student Chromebooks, our aging building made us wonder: what's it like across town?
Heritage High School was built in 2002 and was therefore designed with modern amenities that the builders of County could not possibly  have planned for. Here is our look into some of the differences between two schools located within minutes of each other.
Old and Crowded: Loudoun Bathrooms
Possibly the number one student complaint from the Captains of Loudoun County High School: the bathrooms. Comparing resources, it's
a question of equity.
Two of Loudoun's bathrooms (above) compared with one side of a bathroom at Heritage High School (below) show the difference in capacity. Heritage features 12 stalls on only one side, with the other side's stalls unable to fit in the picture. Meanwhile, two of Loudoun's bathrooms provide only eight stalls. The lack of enough stalls at County causes lines in the bathrooms between classes. Heritage bathrooms contain air dryers while in Loudoun, only one girls' and three boys' bathrooms have air dryers. In one Heritage bathroom there are ample sinks on both sides of the bathroom while in Loudoun bathrooms there are only a handful of sinks. For the all gender bathrooms in Heritage, the signs make it clear that anyone can use them, but in Loudoun all of the all gender bathrooms have a "staff only" sign on the door, sending mixed signals to the students.
Equal Dining Seats, Limited Vending options Loudoun Cafeteria
With Loudoun's upgraded seating this year, both cafeterias in Loudoun and Heritage have similar seating options (Loudoun, above; Heritage, below), but that can't be said for the vending machines. Heritage has three vending machines in one spot with multiple options to choose (below) from while Loudoun has one vending machine in one spot (above) that hadn't been refilled at the time of publication, so there are only a couple of options to choose from.
Historic and Unique (Loudoun Hallways) vs Smooth and Spirited (Heritage Hallways)
While Heritage's hallways (below) are consistently wide, Loudoun's hallways (above) have been through numerous renovations. For instance, a narrow hallway runs past the library, formerly the gym, and barely allows two students to pass by at one time. The hallway had once been part of a locker room but was repurposed when renovations were completed.
Staircases: Decorated and Varied vs Generic and Wide
The staircases in Heritage (below) are wide and bland while some stairways in Loudoun are inconsistent in size but also a majority are  decorated with paintings of graduated classes. While inconsistent, Loudoun's unique architectural features give it character that some of
the modern schools lack.
Extra Features
In Heritage (below), there are multiple couches in the halls, charging stations for phones, benches with the school name engraved into them,
and TVs in the halls. Not only does Loudoun lack these features, but the lack of charging locations for students' Chromebooks causes  overcrowding issues. Loudoun (above) does have a sky bridge in the middle of the school and a ROTC Annex building outside next to the parking lot. The sky bridge extends from one side of the top floor in the school to the other part of the school.
Leave a Comment
About the Writer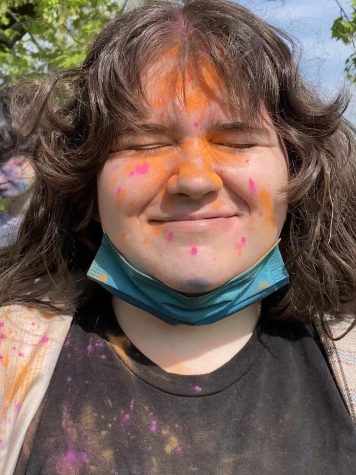 Hannah Winegar, staff writer
Hannah Winegar is a senior at Loudoun County High School. This is her second year writing for the LCHS Newspaper.