Leaving with Legacy
Senior Newspaper Students Graduate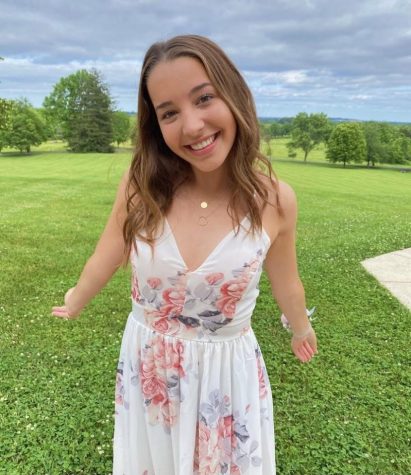 Maggie Sheridan laughs cheerfully, pulling in the rest of the journalism class with her lighthearted joking, a common occurrence in the classroom. As Editor in Chief of the County Chronicle Sheridan continuously shows leadership skills, not only through her adept guidance but through her optimistic, exuberant personality.
But Sheridan admits she wasn't always as competent a leader.
"I learned a lot over the last couple years," Sheridan said.
Her journalistic journey began in her Sophomore year when she chose Journalism class at the prompting of her mother and siblings.
"My mom is an English teacher, so she has always persuaded me to write, and then I realized it's something I wanted to do," Sheridan said. Her siblings, who had also taken Newspaper, told her how great of an elective it was and how I should definitely do it, since I enjoy writing."
Sheridan immediately made waves with her journalistic ambition, writing an article exposing the inequitable treatment towards Loudoun County High School Students, who at the time were not allowed to paint their parking spots, unlike other high  school students in the county.
"The way Maggie stuck to her topic and pushed for answers when the situation didn't make sense is really what's at the heart of journalism," Valerie Egger, newspaper sponsor, said. Egger still regularly references it to her Intro to Journalism students as an example of investigative journalism, inspiring several to pursue the truth with the same passion Sheridan exhibited.
"When I started writing it I had no idea it would become such a big topic, we were just talking about different things that annoyed us about school," Sheridan said. Upon discussing the topic she realized that although her siblings had been able to paint their spots current students could not, so, as she said, "I figured it out."
While Sheridan's contributions to the Newspaper have been large, she also feels as though Journalism has helped her. 
"It's definitely helped me be more aware of the issues facing our world and want to learn more about them, do more research," Sheridan said. "It's also helped me grow in my writing skills and find more of a passion for writing in general. The freedom of expression and the ability to write whatever you're feeling or want to learn more about."
Sheridan plans to become an English major as she attends Virginia Tech next year.
After high school she is considering either becoming a teacher or a journalist. 
"I'd definitely be an investigative type journalist, I want to travel different places, learn more about other people and their stories that I've never encountered before," Sheridan said.
While she sets high expectations for herself Sheridan also appreciates the small almost mundane moments of life mentioning one of her most memorable moments of high school came when one of her previous science teachers allowed his class to play 'Sharks and Minnows on the school's football field, along with putting her senior handprint on the wall, a Loudoun County High School tradition.
While Sheridan acknowledges the effect of the pandemic, she remains positive. 
" I try to look on the bright side and I'm more of a positive person." Sheridan said. " I try to have a good mentality when I'm going about the school day." Something Sheridans says she also uses to help cheer other people up. Maggie quotes one of her mantras saying "This might be a challenge for right now, but you're going to get through it."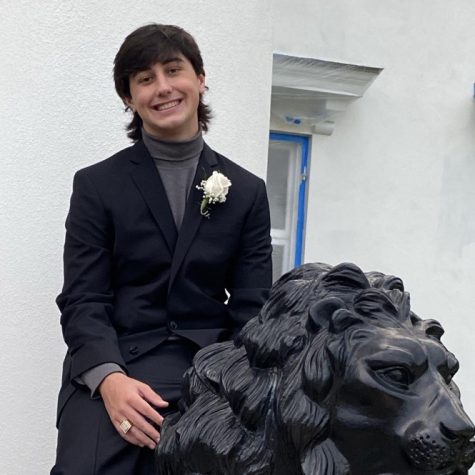 Daniel Delargy joined Newspaper Journalism his senior year, after taking Intro to Journalism junior year. He can generally be found engaging in a sarcastically charged current events discussion, often with captivating unique views.
Delargy utilizes these unique views to mainly write opinion pieces as well as features on current events.
"A lot of my pieces were current events, that's kind of why I took the class," Delargy said. "A lot of the time I would cover breaking things, I just wanted to talk about it."
Delargy chose Charleston College, his dream college since he was a child, where he will major in political science. 
"I picked political sciences because it's what I was interested in, but I wasn't sure career wise, but you can do a lot of things with it, I could go into government if I wanted to," Delargy said. "My school is liberal arts colleges too, so I would also be taking other classes."
He also chose courses such as AP Human Geography, Sociology, and AP Government. 
Delargy also focused on his studies and tried to tour several schools in preparation for college, something he only began to focus on recently.
"My freshman year GPA was dreadful," Delargy said, "So my junior year I really tried to crack down."
A challenge made all the more difficult by the hit of the COVID-19 pandemic. 
"Virtual learning was definitely challenging, but it was easy for me because I could go on my computer and have it all in front of me," Delargy said. 
His junior year also ended early as Delargy had to attend a summer camp he had been since he was eight, transitioning from camper to counselor. 
"It's probably the most influential thing in my entire life to be honest," Delargy said. "Everything from who I was, to who I look up to, to buildings skills and individuality, attests to that experience."
Delargy still values the opportunity to disconnect from cell phones and parents in order to gain a sense of self, both through work and friendships.
In fact one of Delargy's old camp counselors, who he said he always looked up to for their integrity and selflessness, is attending Charleston as well, and even gave Delargy a tour of the campus.
Delargy also has a supportive friend group at school, with whom he participates in quintessential high school activities like attending football games and school dances. 
Delargy supplements these after school activities with extracurriculars including golf and piano. 
As the school year approaches an end Delargy identified himself being motivated by his long term goals and academic career.
"At this point it's just not having to be stressed out about school, I just like to check StudentVue and be pleased with myself," Delargy said. 
Delargy also feels as though he's grown through the lessons his experiences in highschool have taught him.
"I learned sometimes you have to do things for yourself, not everyone is going to help you with everything," Delargy said. "But also I found a lot of people who I can rely on."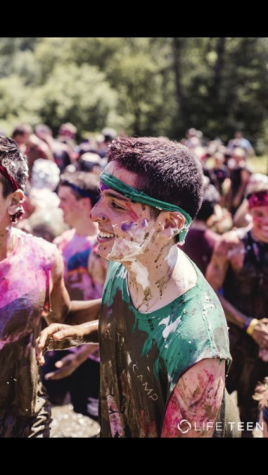 With a brightly colored button down contrasting his chill personality, Lorenzo Salas can generally be found hard at work on his next new story, if he's not contributing to an irrelevantly intellectual class conversation or wandering the school looking for his next inspiration.
Salas joined Journalism his sophomore year, and since has grown to be an integral part of the writing team with his focus on community improvement.
"I like talking about the news and real people, and giving my opinion and ideas on how to fix real world problems and bring light to issues," Salas said.
He mainly works on current events features supporting small artists, business, and organizations around the community and covering social justice movements such as Black Lives Matter, but has recently undertaken several large pieces on architectural improvement and equity within Loudoun County Public Schools.
Salas is attending James Madison University, where he plans to study journalism, a field he already feels he has learned valuable skills in. 
"It [Journalism class] has taught me how to research and how to think more independently, how to ask people questions to more directly get to the truth," Salas said. 
Beyond the classroom Salas also tries to broaden his world view with a the "wacky escapades" he participates in outside of school, often on a visit to his sister in Richmond or a trip with his friends Salas will gain firsthand knowledge of the world through experiences as unique as being mugged for pizza, a story infamous to his friend group. 
Beyond less important things like assisting to fix global problems and fighting for equality, Salas finds himself inspired by One Piece, a popular anime focused on a pirate crew searching for treasure, as well as "Fear and Loathing" in Las Vegas, a novel by fellow journalist Hunter S. Thompson.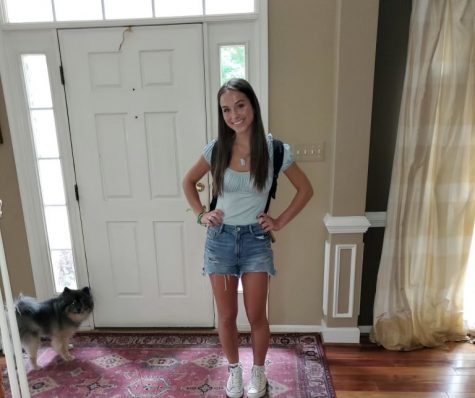 Michaela Scott flips her long black hair over her shoulder as she types her latest feature and talks to Maggie Sheridan, her co-editor in chief about organizing the latest edition of the newspaper.
Scott joined Journalism her sophomore year, on the recommendation of her older brothers. 
After joining journalism Scott realized her love for bringing attention to parts of her community that require improvement.
"A big priority of mine is to get the message out about important issues," said Scott.
One example of how Scott calls attention to hardships in her community is an article she collaborated on with Sheridan discussing the effects of virtual learning on ELL students. 
Scott worked her way up to Editor-in-Chief position in the schools newspaper, a position she uses to help organize the rest of the staff.
Scott believes her duties are "First and foremost just providing a little prior knowledge to the staff, and incorporating new things from what we learned our first years," as well as helping with the time management of the team and providing general guidance to her staff. 
Journalism has also helped Scott decide to study communications at Virginia Tech, majoring in media journalism.
"It [Journalism Class] has given me a deep passion for journalism," said Scott, adding she values how she can contribute more to the school through the class.
Scott also participated in the SCA, working on the school announcements which also gave her experience towards her major as well as being the president of the young Democrats.
Beyond extracurricular activities in preparation for college Scott worked to stay organized and on top of her applications giving the advice to younger students "Just being ahead of the game, being on top of it way before deadlines are due, is how you'll be stress free senior year. With all the deadlines and schoolwork it's already so much to worry about, so if you have it planned out it will be a breeze."
Outside of school Scott has felt like her high school years have helped her grow as a person learning valuable lessons.
"You are who you surround yourself with," said Scott "I think I've also learned that giving yourself time is very important, things just start snowballing downhill when you don't give yourself time."
Scott has also found what motivates her is uniting people and drawing attention to situations that can be improved
"I like making my voice heard, and when I do that I like to make my voice really matter," Scott said. "What's so great about this class is that if you want to make your voice heard you can totally do that," said Scott.
Leave a Comment