Library Remains Open to Students During Hybrid and Distance Learning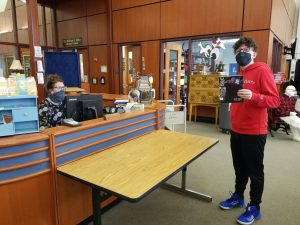 Before March 2020, the library was often overflowing with students in the mornings, and students visited regularly during lunch and study hall. This year however, the library is a much quieter place. The main visitors now are teachers, seated at socially-distanced desks during their planning periods. But through distance and hybrid learning, the school library remains open for students to check out books. Safety precautions are being taken to ensure that this remains safe for all involved.
Students are able to request books through a book request form. Books are delivered to English or study hall for hybrid students, and the librarians are still delivering books to virtual students as needed, or students can pick them up in the front office. Students can view the catalog to see what books are available and submit a book request form from the library Schoology page (access code FT6Q-SRDD-J9N54).
Currently, hybrid students are allowed to come to the library to browse books in 15-minute increments. Students are asked to touch as few books as possible and use hand sanitizer when entering the library.
When books are returned, they are quarantined for three days in keeping with the American Library Association's protocol.
"We want kids reading paper books and taking screen breaks," Librarian Christina Burge said. "We will do whatever we can to get books in students' hands."