Black Lives Matter movement prompts students to call for change
Charlotte Penberthy and Isabella Mitchum protest with the other supporters of the BLM movement in Downtown Leesburg. The rally took place on May 31, 2020, and attracted students from Loudoun County High School, along with many others.
Following the controversial May 25 killing of George Floyd by police officer Derek Chauvin, students at Loudoun County High School, along with many other citizens around the country, immediately started protesting the injustice, calling for change.
Floyd's death helped raise awareness for Louisville, Ky. citizen Breonna Taylor, who was killed by police during a forced entry of her home on March 13.
"Breonna Taylor's case infuriates me because she was just laying in bed," sophomore Jada Venson said. "Yes, her boyfriend had a weapon but she was asleep and [the police] shot and killed her."
Among those whose lives the BLM movement has touched are several students at Loudoun County High School.
Students wanted their voices to be heard as they called out, demanding these wrongs to be righted.
A very common way of doing this was social media.
"I think the most important part of the Black Lives Matter movement was social media because it allowed everyone to participate in the movement," sophomore Anna Takemoto said.
But not just social media played a role. A protest was organized in Downtown Leesburg on June 7. Hundreds of people, including students, showed up to speak out.
"I thought the protest was so powerful," said junior Charlotte Penberthy. "At a certain point I broke down to tears just thinking about all the innocent people killed by the ones whose job is to protect us."
After the protest things did not slow down. Once again students flooded social media, and Instagram feeds were blooming with pleas for people to sign petitions to put those responsible for the deaths of Floyd and Taylor in jail.
"I signed so many petitions," Penberthy said. "Some of the more notable ones are Justice for George Floyd and Defunding the Police."
The Black Lives Matter movement has opened many eyes to the issues that people of color face, it has changed the way some students see the world.
"BLM has brought awareness to the struggles all people of color face and made me believe that overcoming systematic racism is something that everyone needs to be fighting for," Takamoto said.
The BLM movement aims to raise awareness about racism and its impact on people. Many people of color have been discriminated against, including some of our own students at Loudoun County.
Venson told a story of the time she was judged for the color of her skin.
"While babysitting my paler cousins I took them to the park where a woman approached us, asking if they were okay," Venson said. "I explained that I'm their cousin and babysitter and they are more than fine. Then, as I sat down to give them lunch, a police officer pulls up and asks me for my ID and for me to call their parents."
Like others, Venson hopes the BLM movement will help raise awareness for the impact of racism in society.
Over the summer, the mascot at Loudoun County was changed due to its ties to slavery in the past, so the students went from being Raiders to Captains. The new mascot eliminated the school's association to slavery that not many people were aware of.
"The Raiders moniker has Confederate roots, paying homage to John S. Mosby, who commanded a battalion of Confederate soldiers known as Mosby's Raiders, Mosby's Rangers or Mosby's men," Blue Ridge District Representative Ian Serotkin told John Battiston, a reporter for the Loudoun Times.
Many students agreed with this new change due to the push for equality around the world and their school. Students, including Takemoto, signed a petition to change the mascot.
"I made sure to do thorough research beforehand so I could educate myself," Takemoto said, speaking of when she signed the petition.
Even after all of these steps students have taken to bring light to racism, they believe the Black Lives Matter movement still has a long way to go.
"In my opinion I think the BLM movement has come a long way," Penberthy said. "But there is much more growth needed to change the culture of our country."
While most students participated in some form of the Black Lives Matter movement to illuminate a problem and bring justice to it, some are concerned about those who used the movement as a trend, trying to gain more followers.
"It's infuriating when people use the movement as a trend or an aesthetic, but really caring and showing people that you care can make a big difference," Takemoto said.
Many students are still trying to stay active in the movement even though it is no longer "trending" and Instagram feeds have gone back to normal.
"I still continue to research and spread information." Venson said. "I am satisfied with what we have changed so far but BLM is far from over."
About the Contributor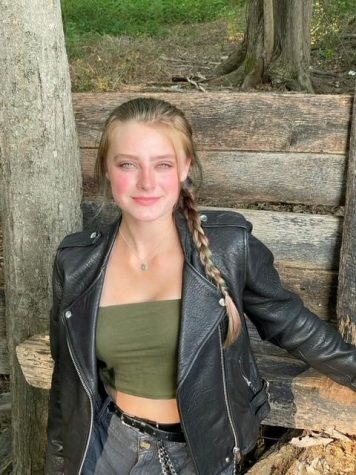 Olivia DeWan, editor-in-chief
Olivia DeWan is a senior, and this is her third year in Newspaper. She loves writing about musicians, sports, and influential students. She will be attending...