Athlete of the issue: Sophie Webb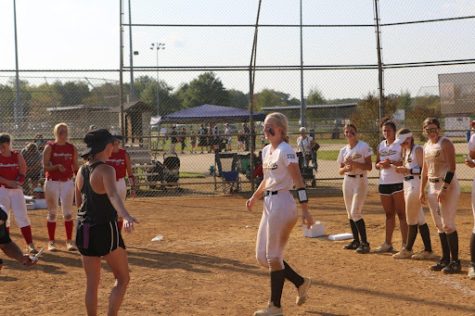 Around fourth grade, freshman Sophie Webb started playing softball. After her hard work through the start of  ninth grade, Webb made the varsity softball team.
To keep in shape and be ready for softball, Webb trains throughout the year.
"I do weight training at Performance Edge as well as agility and practice with my team," Webb said.
To help with the training Webb also has a diet she sticks to.
"My diet consists of tons of fruits, vegetables, and protein. Vitamins also help my body get nutrients that I need to help my body stay healthy and strong. My parents help me with meal plans and remind me everything in moderation. So you can eat pretty much anything as long as you keep it pretty balanced between junk food and healthier food," Webb said.
Webb's diet and training helps her because Webb is committed to playing softball all year round.
"I play on a travel team year round but during the high school season, we take a break to go play with our school teams," Webb said.
On both teams, Webb had to choose a number to be.
"My number for my travel team is 32. I don't remember why I chose this number, but I did during the first season I ever played softball. For high school I'm #15. I just chose this number because this was normally one of my backup numbers if I didn't get 32," Webb said.
To get ready for games, Webb has a way of getting mentally ready to play.
"I have a Spotify playlist that helps me get into the right mental space before a game," Webb said.
Outside of playing softball, Webb has a few hobbies she enjoys.
"My hobbies outside of school are hanging out with my family and friends and traveling," Webb said.
At the moment Webb is planning to attend college; she isn't sure where yet but wants to go somewhere warm. 
After college Webb does not want to go professionally right now. 
But to keep Webb going she does have some role models."My biggest role models are my coaches. They are expected to set the best examples for us to look up to. Some teams have captains, I look up to my captains on the high school team because they have the most experience and set examples and expectations for the team," Webb said.