Kathy Garrison retires from LCHS after 20 years as Main Secretary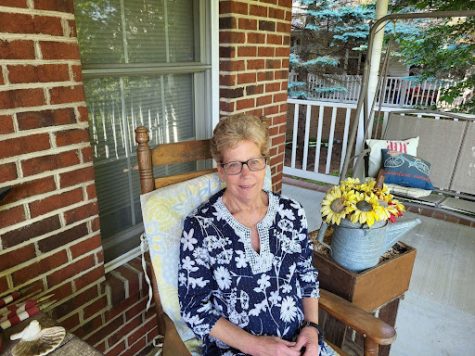 Any student who has ever interacted with the main office in the past 20 years will probably recognize Kathy Garrison's tell-tale smile. Many faculty agree that Garrison is part of the glue that holds the school together.
According to English department chair Beth Williams, Garrison "is the organizer of the chaos that is subs, sub plans, coverage, time cards, and Smart Find." 
Secretary Michelle Gettier describes Garrison as "kind" and having "an unbelievable level of patience." According to Gettier, Garrison is "a creative genius." Secretary Amy Perkins calls Garrison "selfless." 
"She makes this school run on the daily and does it with a smile on her face and a kind word," Williams said. 
Garrison had originally started her career as a bus driver, before working as a field trip coordinator at the transportation office, until she ultimately decided to change career paths.
"When the opportunity to work at LCHS became available I jumped at the chance to return to my alma mater," she wrote. As a student of the class of 1982, Garrison had very fond memories from her time at our school. "I played clarinet in the marching band and enjoyed going to football games and competitions," Garrison said.
After taking a typing class at LCHS, Garrison had come to the decision that she wanted to seek out a career in an office. 
In the last two decades she has spent as a staff member at LCHS, Garrison has made countless memories with fellow staff, as well as thousands of students to come in and out of our school. Garrison recalls her most frightening memory to be a bomb threat that had been called in against the County. "My best friend was still on the phone with the caller while we were having to evacuate the building," she said. "I didn't want to go without her." In the end, the threat was a hoax, however it was still one of the worst days of her time at LCHS.
On the contrary, Garrison shared multiple memorable moments over the last 20 years, one of which being able to witness her own two children graduate from the same school she had many years prior. "It has been a wonderful experience working here," Garrison wrote. "I will truly miss all the friendships I have made during my years at LCHS."
"She will be missed beyond belief," Gettier said. 
"I will miss chatting with her daily when I get to school," Williams said. "She will leave some big shoes to fill."