Student artist Jocelyn Ortiz perseveres through roadblocks in her art career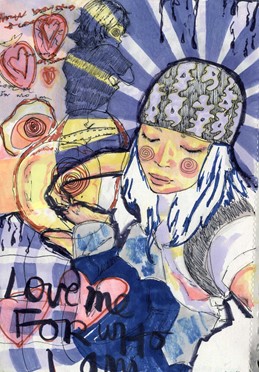 Through the strokes of a pencil and the dashes of paint, senior Jocelyn Ortiz has created a vibrant world of color although filled with many challenges.
Through learning from her teacher Stephanie Woshner, who she has had for three years, Ortiz has been able to grow and learn tremendously.
"She's willing to continue to learn and ask questions," Woshner said. "She just wants to continue to get better. She's not afraid to get something wrong or fail at anything because she knows that failure is going to help her learn."
Ortiz has been an artist as long as she can remember as it was always her favorite class. This year, Ortiz is finishing four years of high school art courses with AP Art.
"It's hard to say exactly when I started doing art, because I can remember myself loving to draw from a very young age, but I feel like that's the same with any little kid," Ortiz said.
The support of her family always helped Ortiz prompt her art career.
"My interest in art was always there, but I think the support of my family recognizing that I enjoyed it really early on made it easier for me to love it even more as I grew up," Ortiz said. She later adds that this support has helped her to create a very unique, messy, free drawing style.
Since art has been a huge part of Ortiz's life, she lets herself be surrounded with creativity and freedom that is so apparent in the fun and supportive art environment.
"I think art is what keeps the world alive," Ortiz said. "People don't realize it's a part of everything around them, especially with how many different forms of art there technically are."
In art, as in many other hobbies, there are always mistakes. The way Ortiz overcomes her mistakes are one of the reasons why she is described as such a strong artist.
"There is usually a solution for every medium, but the mental setback you feel by making a mistake, especially on a piece you care about, can be a pain to work through. Sometimes I get so wrapped up in a piece that I do too much to it and it's no longer what I envisioned,'" Ortiz said.
Keeping a clear mind is the best way Ortiz overcomes her hard moments. Whether it be a creative block or another motivational issue, Ortiz has a common practice to sustain a clear mind.
"I think stepping back from a piece from time to time and reevaluating how I would like the final piece to look is the best approach to working around mistakes already made and preventing what I think would be future mistakes," Ortiz said.
Like many artists, Ortiz has some struggles with managing art with her other classes and extracurriculars.
"I am a very slow worker when it comes to art," Ortiz said. She adds, "I rarely choose to work on bigger pieces or create a fully fleshed out and rendered piece. So the content I've needed to create for my AP portfolio has been a push out of my comfort zone and a pretty big challenge. But I appreciate the challenge of inspiring me to make some of my favorite works of mine."
Beginning this fall, Ortiz will be attending The New School aiming to earn a degree in Liberal Arts. Her challenges within her art career have helped her grow and eventually pursue her career further.
"Many of the pieces I made this year are some of what I am most proud of just because of the challenges they've presented me and for what they mean," Ortiz said.
Although she has had many hardships, Ortiz has come to love art for everything it has done for her. In fact, Ortiz states, "Art is something I've learned I could never live without. Whether I'm creating it myself or I'm appreciating something beautiful someone else has made, it gives me a different sense of fulfillment than anything else."