Search for the Best Local Environmentally Friendly Restaurant
As the world ages and we continue to create new technologies that harm the Earth, implementing environmentally friendly practices is more important than ever. These local restaurants help by sourcing their food straight from farms, use compostable utensils, and believe that keeping the Earth healthy, as well as their customers, is the most important thing. Although buying from big businesses is easiest, supporting the Earth is much more beneficial.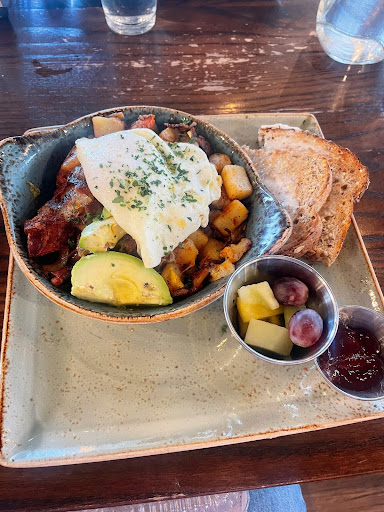 CAVA (Ashburn)- 10/10
CAVA takes care of the things that matter most, the Earth and the community. They also claim to not take shortcuts when it comes to freshly sourced foods and have many partners who believe the same. In 2018, CAVA made the switch to biodegradable utensils, bowls, and straws, which has long lasting benefits to the environment.
CAVA specializes in Mediterranean food and has several different options free to customize. As for myself, I got a grain bowl which I customized with various options such as cucumbers, tomatoes, lentils, and grilled chicken. One of the best things about CAVA was the amount of options for customization as well as the freshness of the ingredients in my bowl. I paid $10 for this bowl which is exceptional, considering the fact that I got plenty of quality food.
CAVA's staff was kind and helpful while the atmosphere was calm and comforting. For those looking for a good bite to eat and a quiet study spot, CAVA is the place for you.
As CAVA is a chain restaurant, it is more local and frequent, which really appealed to me. With more than 250 locations, dining is made easy, while also environmentally friendly, which many big corporations don't integrate into their mission.
I was pleasantly surprised with the overall environmentally friendliness of CAVA, with the biodegradable utensils as well as bowls and straws. Their staff was great and helpful, and their options and pricing were perfect. I would give CAVA an overall 10/10.
Cowbell Kitchen (Leesburg)- 8.5/10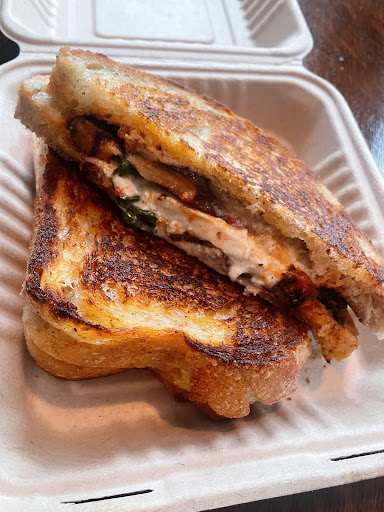 Cowbell Kitchen is a local "farm and local produce" driven small business. They believe in bringing locally grown, raised, and produced food right to your table. Their efforts  significantly reduce the use of fossil fuels during transportation, which in turn makes the Earth healthier by reducing harmful greenhouse gasses.
Cowbell Kitchen had just recently moved to Leesburg, and specializes in sweet pastries and savory lunch and breakfast options. Cowbell Kitchen is solely women owned and staffed in many areas of their store. Cowbell Kitchen has their very own set of items to purchase, as well as their fresh food items.
I got a seasonal dish, the "Burrata Grilled Cheese," which comes with burrata and cheddar cheeses, mushrooms, and marinara sauce. The cheeses were melty and delicious, and the marinara was the perfect addition to this dish. They blended perfectly with the mushrooms, which added a change of texture to the dish. Although, the overall dish was very messy, as it was greasy and almost soggy.
In addition to this meal, I got a lavender lemonade, which was sweet, with the right amount of lavender to make this drink a must have. With the addition of the drink, my total came to $18, $15 for the sandwich, and $3 for the lemonade. Personally, I think that this was a little pricey, seeing as both the sandwich and lemonade were smaller.
Cowbell Kitchen is very local and quiet, which makes it a perfect place for a quiet study spot. In the dining areas, there were many people working or reading, which added to the comforting, calm vibe of the store. However, there was a lack of adequate seating, which made it difficult to truly enjoy the environment.
Throughout the store, there were books for sale that were all written by women. I really like this addition to the store, as it advocates for women in literature. In addition to the mass amounts of books, there were also other items such as fashionable jewelry or cute dishes that were for sale.
Cowbell Kitchen is very dedicated to keeping their restaurant sustainable. It's easy to see in the recyclable aluminum water bottles that read, "More Ocean. Less Plastic," as well as in the recyclable containers, and of course their locally grown ingredients.
Cowbell Kitchen is one of the best places to visit if you would like to support a small business that takes action in creating a better environment. They had delicious foods, drinks, and a welcoming, enticing environment. Although the seating was slim and the pricing was unfavorable, I still would rate Cowbell Kitchen an 8.5/10.
First Watch (Leesburg)- 8/10
In May 2021, First Watch opened in Leesburg with the promise of fresh ingredients and happy customers. Just recently in 2022, First Watch partnered with WinCup to further improve sustainability in their restaurants by replacing their regular plastic straws with plant-based straws.
The environment of First Watch was satisfactory with a rustic farmhouse vibe and upbeat music in the background. Although, the seating of the restaurant was slim and I was met with an hour-long wait due to this. It would be preferred to make a reservation beforehand when visiting.
First Watch is primarily a breakfast or brunch place and has various breakfast sandwiches, omelets, or even what I ordered, the "Farmhouse Hash." This dish consisted of bacon, peppers, and avocado cushioned on potatoes as well as an egg that was prepared to your liking. This meal also consisted of an assortment of seasonal fruit, whole grain bread, and strawberry jam.
At first bite, the egg, avocado and peppers were very present as well as the cubed potatoes, which seemed to be a bit undercooked and hard. The bacon was seasoned nicely and added a nice crunch to my meal. For those who prefer savory over sweet, this dish is a must have.
The whole grain bread was toasted evenly on both sides and buttered nicely. The strawberry jam truly made the toast for me as it was very sweet and even all-naturally made. The cost of this meal was $14 dollars, which seems like a good deal considering the quality of most of the dish.
Personally, I prefer sweet over savory so this meal didn't appeal to me too much. Although this meal wasn't to my liking, the restaurant was balanced with a refreshing environmental touch. Many condiments on the table were fresh and all natural, while customers could also receive paper straws upon request. There was also a specific freshly squeezed juice menu, which had natural ingredients in one single sip.
For those who prefer sweet over savory, First Watch had limited appealing options for sweet dishes. They have French toast, sweet all-natural acai bowls, and a variety of pancakes and waffles all at an affordable price, ranging from $6-$12 dollars a plate.
I was very happy with the overall atmosphere of First Watch and am glad to know it is one of the local businesses that advocates for a better environment. The food was enjoyable, the atmosphere was welcoming, pricing was fair, and is an overall 8/10 for me.
Leave a Comment
About the Contributor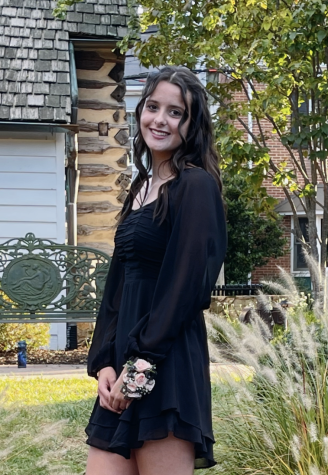 Taylor Helfer, staff writer
Taylor Helfer is a freshman at Loudoun County High School and this is her first year on the newspaper staff. Although she loves writing about a variety...