Swim: senior JP Vanderloo looks at his final varsity season with high hopes
Multi-sport athlete and senior JP Vanderloo cuts through the water with even strokes as he competes for the Loudoun County Varsity Swim Team.
"I started swimming competitively at age five during the summer, and started on club when I was six," Vanderloo said.
He began swimming for County his freshmen year and has been a contributing member of the team ever since.
"My favorite memory from the County team came from states my freshman year, when I was on the 4×50 freestyle relay with three upperclassmen–two seniors and a junior," Vanderloo said. "We swam pretty well in the preliminaries and qualified for the top final, but the two seniors especially wanted to end their high school careers even better. We swam our hearts out in the final, placed higher than we thought, and even broke the school record."
Vanderloo said he was extremely honored to have such an impact on his team and he tries his best to continue to do so.
"The team environment at County is honestly amazing," Vanderloo said. "We all love to have fun at practice and meets, but are also always there to encourage each other when we're maybe not feeling it. Everyone works hard, and it shows in our competitions."
Like many athletes, Vanderloo has to balance the work between in the pool, on the course, and in the classroom. However, his schedule is more packed than most.
Vanderloo swims five days a week, with his morning beginning with a 4:20 alarm clock. He drives to the pool to swim with a club team for two and a half hours, leaving at 7:30 to return home for breakfast and a shower before school.
During the fall, Vanderloo runs cross country and swims an additional hour-long practice two days a week.
In the winter season, Vanderloo's activities are shifted to the night, where he runs on his own three days a week to stay in shape for cross county, and attends high school swim practice late at night at Ida Lee Rec Center.
"I fit in homework and other responsibilities sometime between there," Vanderloo said. "One of the hardest things about swimming is its demanding commitment. There have been many times where I have been forced to miss social events or other activities for meets or practice, which can definitely be hard. However it's also taught me how to maximize the time I do have, which can make it even more rewarding."
With a heavy focus on athletics, Vanderloo has high hopes for his senior year of swimming.
"Personally, my goals are to win my events at our District and Regional meets, place at least top three in States in my events, and break the County school record in the 200 IM," Vanderloo said. "However as a team, I would love to repeat our men's Districts win from last year, and hopefully win Regionals as well."
Vanderloo places a lot of worth on the friendships he's made through swimming at County as well.
"One of my favorite things is our tradition of going to IHOP after every meet," Vanderloo said. "It's a great opportunity to relax and bond with your teammates after a hard-fought meet, and the food always hits the spot. It's been a tradition for long before I was on the team, and I hope it continues to stay long after I'm gone!"
And like all seniors, Vanderloo will have to move on from his team, but he hopes to keep swimming in his life.
"I would love to continue swimming in college, and am actively pursuing it with several schools across NCAA Divisions I, II, and III" Vanderloo said. "My dream is to be able to swim and serve at the Naval Academy and study economics."
Vanderloo will carry all that he's learned from swimming to the next stages of his life.
"Swimming has done several amazing things for me, and what I've put into it has come back tenfold," Vanderloo said. "It's taught me to be determined, to have a strong work-ethic, how to deal with disappointment, and the value of a team around you."
Leave a Comment
About the Writer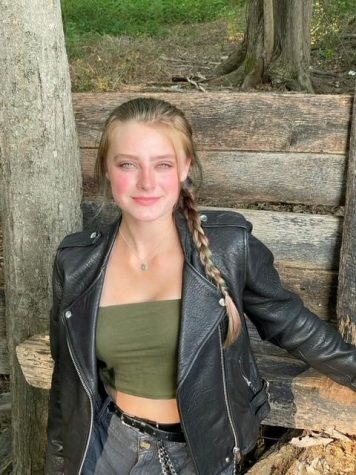 Olivia DeWan, editor-in-chief
Olivia DeWan is a senior, and this is her third year in Newspaper. She loves writing about musicians, sports, and influential students. She will be attending...