Football completes historic season
The packed crowd did not waste their eight dollars with this regional championship football game in Leesburg, Virginia, a very close game that came down to the final minute between two undefeated teams, all under 60 degree weather. Not bad for a late fall football game. It was sad to see the Captain's historic season come to an end, but it was exciting seeing them fight to the last minute, when they ended up losing by one.
Leadership was a big part of football and was a big reason why they were successful this football season.
"We have great leadership from a lot of our seniors this year ,and even some of us are underclassmen," head football coach Matthew Reidenbaugh said."I thought that was the difference between being a really good team and being a great team."
The football team worked hard every game and proved it by making history by being the first County football team to go 10-0 during the regular season.
"I feel like our team played like champions the whole year. We definitely were probably the best football team County's ever had since the school was opened, and I'm really proud to be a part of that," senior tight end Joey Fitzpatrick said.
Physically, the football team was very aggressive, and part of that was from the work they put in over the off season.
"You know every week when we stepped on the field I think we physically matched up with everybody, which is a testament to how hard our kids worked in the offseason in the weight room to make sure they were physically prepared to play,"  Reidenbaugh said.
With the offense lineman averaging 252 pounds per player and the defense lineman averaging 223, it made both sides of the ball tough. 
"We're the most physical football team that we've been since I've been here. We had a great offensive line and defensive line," Reidenbaugh said. "We're able to control the games every week through those guys and that's the recipe if you want to be good and make a deep playoff run."
The team was very close to meeting one of their team's goals, which was winning the region championship.
"And ultimately we said we just wanted the chance to win the region title and state title," Redienbaugh said. "We had a chance and it didn't work out, but you know we were right there at the end, which is all you can ask for."
Being only the second time in school history that the football team won the Dulles District Championship, the team was very proud of that history.
Senior center Evan Stanley describes their success as "a culmination of the work that we had done for years to get to that district title."
The team was proud of their perfect regular season winning the district championship. 
"It was a great night to celebrate, you know, as a team, not just for what we did that night, but what we did all season long,"  Stanley said. 
"When you look at the 68 years of Loudoun County football, this was the most successful team," Reidenbaugh said. "It says a lot about what they did."
Leave a Comment
About the Contributor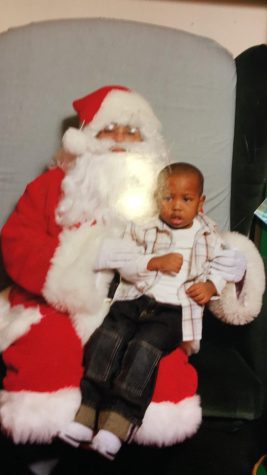 Jevonte Herron, staff writer
Jevonte Herron, Reporter
Jevonte grew up in Chicago, Illinois. He loves to play basketball and also loves to learn more about people, which makes interviewing...