Varsity advances to States for second time in school history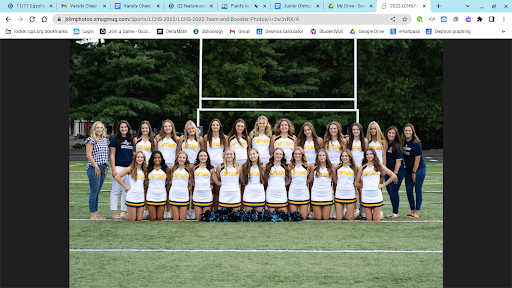 Everything is on the line at the Regional Cheer Competition. With high energy and perfect ponytails, the LCHS Varsity Cheer team jumps and bounds to their starting positions. Their uniforms sparkle under the fluorescent lights, the music starts, and the girls start their choreographed routine, which took months of hard work to prepare.  Through complicated flips that send them flying through the air, and rhythmic chanting, the team earns a first-place score from the judges, with a full 11 points more than the second-place winner.
That October 26 win brought the cheer team advanced to states. Throughout the season, the team placed first at most of the meets and made school history by earning the first district runner up.
"Our team did very well this season. The most impactful moment for me was winning regionals. All of our hard work had paid off and it was the best being able to celebrate with each other," senior Emi Parker said.
On November 5, the team headed down to Richmond to perform. Though their score at states was not enough to win, they had a great season leading up to their final competition against many other cheer teams.
"States was definitely the hardest competition of the year because we were competing against the best teams in Virginia," Parker said.
Parker, who is now one of three team captains for a second year in a row, explained that this is only the second time in school history the team has gone to states.
Senior Mia Rodgers is also in her second year as captain. While Rodgers admits it was stressful to try and make it to states, she says it was worth it. "The stress was all worth it because we won our first region title in school history," Rodgers said.
Senior Ava Sheridan agreed that the most difficult competition was at states. "Nobody on the team had experienced that kind of pressure before, and as a team we had never performed in front of that many people," Sheridan said.
Sheridan, in her first year as one of the captains, noted that the experience was made more difficult because the head coach could not be there that day.
Despite the coach being absent for the final competition, the team brought its own unity.
"I feel I brought encouragement and a safe place to talk to for my teammates," Parker said.
"This is the best season I have been a part of yet, and the accomplishments as well as relationships throughout the team are indescribable,"  junior Ava Dekenipp said. "This team went through so much and pushed through it all, and we ended up having an amazing season. Making school history was definitely a moment we will never forget."
Dekenipp is also one of the captains, and this is her first year in that position. The cheer team had to make sure their routine was perfect with not many mess ups. Dekenipp said they really had to push it to win.
"I think the hardest competition we had this year was regionals," Dekenipp said. "This was our final push to get further than ever in our season, and going into round two of the competition we were behind by one point. However, we ended up placing first for the first time in school history by 11 points and moving on to states."
"Making it to states was definitely the most impactful moment of the season. Our round two performance at regional was the best cheer routine I've done in my life," said Rodgers. "The energy from that routine made me feel like we could win every single competition that we went to."
The cheer team generally performs the same routine each time, but did change it up later in the season. The team dances and tumbles to music, doing stunts and tricks throughout the song, a far cry from the stereotypical image of a cheerleader that those unfamiliar with the sport might have.
"I think our success this season has to do with all the help we received along the way from guest coaches, parents," said Sheridan. "Lots of adults who were unbiased towards our team dedicated their time to help us and give us feedback this season, so we were constantly getting better."
This year many people helped with the success of the cheer team.
"We loved seeing our athletes become dedicated to the program so early on by coming to open gyms and pre-seasons starting all the way back in May," head coach Sam Mancini said.  "Seeing this much commitment to the program so early on made us realize we had to trust them with a harder skill set and a much more difficult routine than we've had in the past. We can't wait to get back to work for next season."
Leave a Comment
About the Contributor
Alexa Sterner, staff writer
Alexa Sterner is a freshman at LCHS. She enjoys writing sports articles. Outside of school Alexa enjoys playing volleyball and watching tv.