Varsity football makes history with a comeback win over Tuscarora
Varsity football made history this football season by knocking off the team that's been our problem the last few years.
The Captains were successful on September 30 against the Tuscarora Huskies in football for the first time in seven years.
"It was awesome," head coach Matthew Reidenbaugh said. "Kids did a great job, players had a great week of practice, so I'm just proud of those guys to cap off a great week of prep with a win."
This game was preparation for the playoffs due to the bad weather, skill of the other team and the good coaching.
"I thought it was a great preview for what we're going to see in a month from now in November when we start getting to some playoff games," Reidenbaugh said. "You're going to see good teams, you're going to have bad weather and you're going to need a great week of practice."
Despite having a key player missing against a good team, the team were still able to get the big win.
"We're really fortunate to have a lot of great backups, you know, it was such a big team win," Reidenbaugh said. "I thought the guys that needed to step up stepped up, and they had a great night did a great job."
After losing 14-0 in the first seven minutes of the game, the Captains were able to get it together after fixing simple problems.
"Our assistant coaches did a great job fixing some things on defense, and once we fixed that it was just easy to settle into the game, and we got a couple of stops and then you know, the rest was history," Reidenbaugh said.
It started when captains scored their first touchdown of the night to make the score 6-14 ,which was scored by senior tight end Joey Fitzpatrick.
"I had our first touchdown to put some points on the board," Fitzpatrick said. "It got us really energized and put a spark on the team when down 14-0 it helped bring the team hopes back alive."
They then scored again after a good fumble recovery which was stripped by senior middle linebacker Matthew Jackmore.
"We were losing 6-14 at that point, and we needed a big play, and I got a strip and my teammate Aaron DiLorenzo recovered it for a touchdown," Jackmore said.
With the Captains still down on their comeback run 12-14, they scored again and converted on a two-point conversion to help them win 20-14.
"I was looking for an open man to throw the ball to, but then I saw a hole that my good blockers created and I used it and ran for 50+ yards and a touchdown to put us in the lead 18-14," said senior quarterback Zach Hensh."Then we decided to go for the extra two points, which we were successful with when I gave it to Dean to run it in."
MaxPeps rank the Captains in the Top 30 of all Virginia high schools as playoffs are only a few games away and they remain undefeated.
Leave a Comment
About the Contributor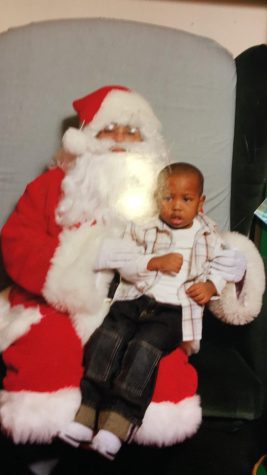 Jevonte Herron, staff writer
Jevonte Herron, Reporter
Jevonte grew up in Chicago, Illinois. He loves to play basketball and also loves to learn more about people, which makes interviewing...