Steel scores 100th goal, commits to York
This year junior midfielder Sofie Steel accomplished a feat that few have managed: she scored her 100th goal of her high school career. 
"It was exciting, to lose a year of lacrosse and still meet a goal I've had since I was younger was a great feeling," Steel said. 
Steel has played varsity lacrosse every year that she has been at County, and has continued her dominance this year through hard work and dedication. The time and effort that she has put into lacrosse earned her a scholarship to York College, which is where she will continue her athletic and academic career.
Her high school success was helped by her teammates and coaches. From getting advice from upperclassmen and asking questions if necessary to learning from mistakes and talking about them with her coaches, these experiences helped shape her into the player and leader that she is today.
"I think I learned a lot from the upperclassmen in my first few years, which had directly impacted my role as a leader and teammate my junior year," Steel said. "My coaches have all been very supportive of me through my years at County. They always gave me extra time to work on what I need, help me understand my mistakes and how to fix them, and they have all trusted me to push myself."
Steel committed to York College earlier this spring and fell in love with the school, campus, and lacrosse program on the first visit. "The recruiting process was timely, starting in eighth grade it was going well," Steel said. "When COVID hit, the process went off course for me. York and a couple other schools stayed in touch, and after my first visit there. I loved it."
Steel continued looking at schools, but "I didn't have the feelings toward them that I did with York," she said. 
Steel also received an offer from UVA Wise, which forced her to make a decision. When weighing out the factors, York was a clear favorite in her eyes and many things were considered when making this decision. "York's record last season was undefeated in their conference and was ranked ninth out of 100-plus teams," Steel said. She praised the environment, and "being close to home and closer to my grandparents impacted my decision as well." Steel says the way they run their program is very similar to a Division 1 program "while still maintaining the Division 3 rules and regulations towards practice times."
Steel will look to continue her high school dominance in her senior season next year and begin to prepare for the next level. "I'm just looking forward to playing," Steel said. "There were some issues this year that affected how the team played together. But our last couple of games really gave me a strong glimpse of what we can expect next year. I'm looking forward to seeing that in action."
Leave a Comment
About the Contributor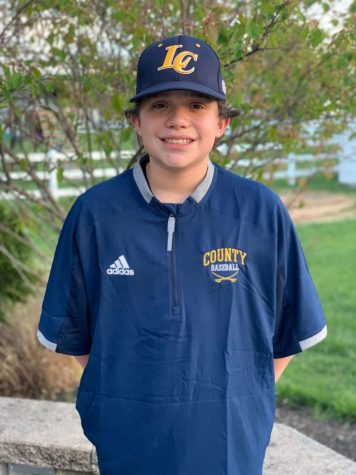 Matt Starchville, staff writer
Matt Starchville is writer for the County Chronicle and also writes for LoCo Sports. He likes to play baseball and play video games in his free time....