Neglected
Overlooked issues in the county's oldest school create challenges to the learning environment
Loudoun County High School was built in 1954, and in 2022, many students would agree that the school has seen better days. Perhaps the physical issues with the building are more pronounced now, or maybe students had gotten used to learning from the comfort of their homes during the peak of COVID, but now that we are back in the building from distance learning, students have been noticing more and more issues with the physical structure of the school. These issues range from small inconveniences like a dead light, to larger issues with school-wide implications.
On November 16, 2021, I went around the school in order to find issues or problems with the school in order to inform Dr. Michelle Luttrell during her visit to our newspaper class. During my investigation I discovered that two toilets in separate bathrooms were leaking water when flushed, lights were filled with dead bugs, a filing cabinet had been stored in a bathroom, and most concerning of all, I discovered that one of the elevators was missing a safety certificate. These are in addition to the known issue of the school's malfunctioning intercom system, which was pervasive earlier in the year.
The issues led me to wonder, what is the process the school goes through when reporting issues?
Throughout the first half of the year, our school went through extensive and frequent repairs  through the process of fixing the intercom, and during a visit to our newspaper class,  Luttrell explained the process. "We have a school database called SchoolDude. That's what receives all of our facilities issues, so once it goes through SchoolDude, it ends up in this massive pool of facilities requests." According to Luttrell, "They have people taking and sorting by categories and sending it to review and determine priority for action."
For the malfunctioning intercoms, Luttrell noted that issues have been ongoing since the beginning of the school year. The work order was acted on, but Luttrell noted that "The contractors the division hired were not as thorough as they could've been in the project."
Though the school has been working with digital experience lead Keith Lehman and digital experience specialist John Bowers, the real problem is that the intercoms are a vendor issue, not one that can be addressed by LCPS. Although the specialists here have been trying to address trouble tickets, they "can only do so much because it's a vendor issue, the company the division head contracted to do the work, they've come in many times to say it's fixed and then the next day it's not fixed," Luttrell said.
At the time of her visit to the class on December 9, 2021, Luttrell confirmed that "we put in a work order but we don't know if this has been solved." On February 23 of this year, a follow-up with Assistant Principal Mark Patterson confirmed that the intercoms were still broken and needed to be fixed. "When they redid our phones, our PA systems went offline. Now we are having the specialists who deal with the PA system coming in to check things over. The people who installed the system need to come to troubleshoot," Patterson said.
Patterson noted that going into Christmas break, "It was our understanding that all the PA systems were fixed." However, on February 23, Patterson confirmed that PA issues still persist as room 201B doesn't have a functioning intercom.
Room 201B is part of a room that was divided in half earlier in the year to create more classrooms. Some of these new classrooms did not initially have heating, air conditioning, or intercom functionality.
The malfunctioning intercom, though mostly fixed at the time of printing, is perhaps the most significant of the issues, as building-wide communication cannot happen without it. However, other issues noted during my November 16 walk around the school persist even at the time of printing.
Some issues were fixed quickly. I found two holes in the ceilings on the bridge. Luttrell confirmed on December 9, 2021, that a work order with high priority was in place and the issue was fixed.
During Luttrell's visit to our class on December 9, I showed her a video of the bathroom in the theater hall, which contained a file cabinet feet away from the toilet. She made a note to have that removed. As of March 4, the filing cabinet is still there.
I also showed Luttrell two videos of toilets leaking water, including one where I nudged the toilet lightly to show it being loose and leaking water. As of March 4, the toilets are still leaking water.
On December 9, Luttrell also noted my observation about the elevator's missing safety certificate. On March 4, I confirmed the elevator was still missing a safety certificate. On that date, I followed up with Patterson about the issue. He confirmed that "The inspector was just here on Monday or Tuesday (February 28 or March 1). They were here and checked them over," Patterson said, adding, "I must admit, I don't go in there to check."
Perhaps one of the issues our school has experienced was the retirement of our building engineer, Kenny Ford, earlier last year. Since Ford's retirement, former LCHS building engineer Bob Jackson has returned to the building two days each week to help with maintenance. Jackson normally works full time at Heritage High School. In an email sent out on March 6, the facility was informed that the school has a new building engineer, Scott Mobley. The school hasn't had a building engineer since September and only has had the help of Heritage school engineer, Bob Jackson. Jackson has been here every Tuesday and Thursday to fix issues and currently is training Mobley and starting March 21, he will be working by himself. "I am so happy. For the last month, Jackson has come over to our school on Tuesday and Thursday." said Patterson. "I am really happy that we have a new engineer."
Leave a Comment
About the Contributor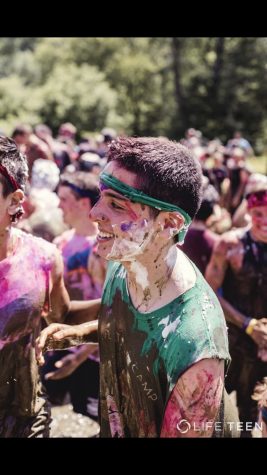 Lorenzo Salas, staff writer
Lorenzo Salas was born in Winchester while the rest of his family was born in Chile. His favorite pastimes
include playing video games, reading graphic...