"Wacky Mayhem, Potions, Fairies, and Spells."
Dazzling outfits, glittery makeup, and colorful lighting brought a 1980's vibe to the drama department's production of "A Midsummer Night's Dream." The whimsical storyline with a glam rock twist was performed March 24-26. 
The drama department, which had been rehearsing the play for two months, chose "A Midsummer Night's Dream" because they had done the play in 2019, before COVID, and wanted to do it again. 
Many people were inspired to act in the play with hopes of getting more acquainted with Shakespeare's work or simply because they love to be involved with everything in the drama department.
"I did the show because I had never actually been able to do a Shakespeare show at County before," senior Anna Diem, who played Puck, said. In 2019, Emma Sleeman, a senior who was close with Diem, had played the same role. "She was a role model to me, so that was also another inspiration," Diem said. "She was great, I loved her. I spent a whole lot of time with her and she was a really good friend of mine." 
Many of the actors have had years of experience in the art of acting. Gracie Hawkins, who played Peaseblossom, has been doing theater since elementary school.
"I just love theater as a whole," Hawkins said. "It's just a great environment to be in." 
Earlier this year the theater department did an adaptation of "The Great Gatsby." Though challenging, it helped prepare them for the winter play.
"Even though we had a lot of troubles I think we came through just as better actors and better tech and just a better department in general," Maxwell Mcknight said. He played Demitrius in "Midsummer Night's Dream."
The play follows four human protagonists who get entangled in a love triangle with the help of forest sprites and fairies. Set in 1980's Greece, the play includes a group of actors called the Mechanicals as well as the Royals.
"My favorite scene is, we call it, the play within a play," Jordan Pearson said, who played Nick Bottom. "I really love it because it's just wacky, it's weird, it makes no sense but it does at the same time." 
Pearson describes the play as "wacky mayhem, potions, fairies, and spells." 
"I think my favorite is actually the fight scene," Mcknight said. "There's a lot of choreography that we've worked really hard to perfect and it looks really good."
While a forest world full of fairies might seem too fanciful, Pearson sees strong relevance of the play today.
"I feel like it's relevant because personally, I feel like with everything that's going on in the world, comedies are needed," Pearson said. "We need some laughs and there's a lot of negativity going around."
Leave a Comment
About the Contributor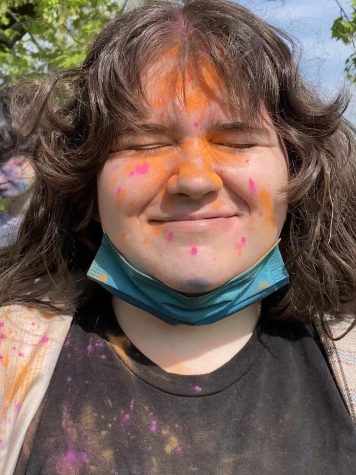 Hannah Winegar, staff writer
Hannah Winegar is a senior at Loudoun County High School. This is her second year writing for the LCHS Newspaper.