Loudoun County is a lightning rod for crazy
As a crowd of people rush into the Loudoun County Public Schools Administrative Offices parking lot, they eagerly wait to listen to the leaders of the rally passionately speak their opinions about the pressing issues at hand. Booths filled with various conservative organizations are set up on the boundaries of the parking lot including representatives from Turning Point USA and PACT. Piles of merchandise from these organizations including stickers, signs, magnets and pamphlets lay out across each table and are available at these booths.
Under one of the mentioned booths, directly to the left of the speaker's podium, is a poster displaying an image of an aged document titled "Virginia Parents Bill of Rights," listing seven issues they hold as "rights," including the right to make academic and medical decisions for their children, have a safe, full time, in-person school environment free from "ideological coercion and other forms of psychological abuse," as well as the right to a "representative and responsive school board" and the ability to "move our children to schools that recognize our rights." 
At the bottom of the "Virginia Parents Bill of Rights" poster is a group of signatures from parents, some of which attended and spoke at the rally that day.
In recent months, the Loudoun County Public School Board has been fielding criticism for some of its policies, including the continued implementation of the universal mask mandate for all people in LCPS buildings, Policy 8040, which allows students to use their chosen name and pronouns, and even allegations of implementing Critical Race Theory. These policies have been getting major backlash from parents and residents of Loudoun County, drawing the attention of news stations across the county, adding unnecessary drama to the lives of students, parents, and staff who attend school, live, and work in the county. 
I attended a rally with fellow student journalist Liberty Harrison, taking place outside of the building holding the bi-monthly School Board Meeting, on November 9, 2021, following the peak of coverage on the events taking place.
People gathered on Tuesday afternoon in order to discuss both the policies of the school board they disagree with, their general distrust and dislike of the school board itself and to celebrate the recent victory of Republican candidate Glenn Youngkin winning the seat of governor, as well as several other Republicans winning seats. 
The gathering started with a myriad of speakers taking turns, sharing their pre-prepared speech for the Loudoun County parents and residents, as well as for attendees not residing in Loudoun County. These presenters spoke on multiple issues including class rank and valedictorian, which the School Board is planning to end with the class of 2025, school library books they deem inappropriate, and Policy 8040.
As students, we were curious about what actually takes place at the rallies that we hear about not only in our local news sources, but on national news as well. We wondered whether what happened at the rallies was a direct reflection of what we experienced at school. Our conclusion: a resounding no. 
We spoke to several individuals at the rally, observing views ranging widely in focus and concept. To be fair, numerous attendees expressed their motives as only wanting to help and ensure that the decisions of the School Board benefits the largest number of people.
Kylie Gannaway, a teacher at Catoctin Elementary School, said she tries to attend and speak at school board meetings whenever she has the time. On November 9, she wanted to get the attention of the School Board, who she claims is not listening to constituents at all. Gannaway states that she believes the School Board doesn't confront the issues of Loudoun County Public Schools with an open mind. "No one's perfect, of course, you can't expect that, that's not fair or right but I think you do need to take responsibility," she said.
Others, however, were not as cognizant of the issues present at our school, and unlike Gannaway, many didn't have a personal or familial connection to the public school system. "I'm a grandparent but my kids go to private school, my grandkids go to private school," said a rally attendee who identified himself to us as "Alexander Hamilton."
"Hamilton" began his conversation with us by ranting about his views on the School Board's policies but quickly got sidetracked by sharing his multiple political views, including his view on the rights of transgender students, about which he says, "I think they need a psychologist,".
"Hamilton" also exhibited lewd behavior, making us feel uncomfortable as minors, and once again exhibiting the fact that attendees of the meetings may not all truly have children's best interests at heart. When continuing his rant, this time on the topic of his opposition towards "homosexuals," he explains to us that when he was in school, he had never "realized people were wired that way" and then went on to say that reason to that was because  "I was so busy being attracted to girls like you," while at the same time pointing towards us.
Loudoun County High School Principal Michelle Luttrell shared her views with us following the peak of national news coverage surrounding the Loudoun County School Board. Luttrell told us that due to the similarity in the names Loudoun County Public Schools and Loudoun County High School, a lot of the hate that is directed at the School Board members, is unfortunately being sent to our school instead, as people search for contact information online and end up calling our school instead of the school board. 
"I've received hate emails, hate phone calls, our front office staff has been cursed out, they have been on the receiving end of rants from people all over the county, who are calling to express their disappointment in our school board and division leadership, but they're coming by mistake at us," she said.
Our interaction with "Hamilton" proves the fact that some of the people attending this parking lot rally don't truly have the students' best interest at heart. It seems that national news coverage has given people permission to use our school board meetings as a venue to express all manner of opinions. 
While many attendees seem to have their own agenda for attending the meetings, there are many issues that actively affect the everyday lives of Loudoun County students that seem to be less controversial in the eyes of major media outlets, and therefore, these important day-to-day issues are obscured by the louder issues worthy of click-bait soundbites. 
For example, the county as a whole is short on teachers and even more so on substitute teachers. Focusing on resolutions that would cause Loudoun County's schools to draw more teachers would reduce class sizes and offer students a more personalized education, something that has been proven to benefit students' education both through the knowledge learned and their want and connection with learning. Increasing staff numbers would also actively remove stress from the teachers working to create a better learning environment for everybody involved in the schools. 
Those angry callers who mistakenly phoned our high school to voice grievances to hard-working front office staff likely did not realize that our physical school building is a perfect example of the need for a focus on day-to-day issues students are experiencing. At our school,  having more teachers may not reduce class sizes due LCHS being majorly overcrowded, so much so that classrooms were cut in half during the summer to accommodate more classes, albeit in smaller spaces. This has created problems with ventilation and inconsistent HVAC heating and cooling, as well as forcing students to squish together in order to make fit into the classroom, whilst maintaining social distancing, and creating an overall uncomfortable learning environment. 
Loudoun County High School also has continuous deterioration around the building that negatively affects the populace, including holes in walls, toilets broken or overflowing, bathroom stalls not locking, and air flow issues resulting in massive temperature differences between classrooms. Where were the adults advocating for us that Tuesday night?
Additionally, better school lunches are an issue that more actively affects students, with lunches below-healthy portioning and ingredients being given to students, who may not have any other option for lunch. Due to this, some students will choose to not eat during lunch over choosing to eat the lunch provided by the school. This results in both them not being as healthy in general, which can negatively impact education as well as forming unhealthy eating habits.
Sexual assault is another big and extremely serious issue, but often not in the way discussed within these circles. At several school board meetings, and thanks to national news sources twisting the story around, a series of sexual assaults in our county were twisted around so that several angry attendees focused on whether LGBTQ+ people were involved in the crime, or asserting that policies like 8040 have been passed, causing the sexual assaults, when in fact they were not passed and had nothing to do with it. The initial assault occurred before 8040 was passed, and the issue of justice was overshadowed by misinformation. 
It took far too long for the truth to be examined, regarding when the assault took place or whether it was reported. Perhaps if school board meetings were not filled with so much noise from outside sources, we could focus on the issues that truly impact our district. 
The truth behind much of the rallies is different from dealing with these issues.
"It's not necessarily about the day-to-day issues the students are facing, it's about fighting for the principle," said Julie Sprinkle, an attendant of the rally.
Leave a Comment
About the Contributor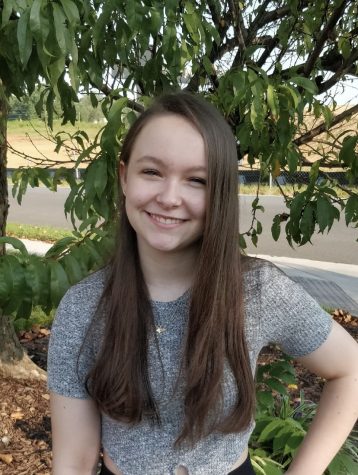 Alexis Shugars, staff writer
Alexis Shugars is a reporter for The County Chronicle, who's interested in writing about a variety of topics. This is her first year writing for the...