Audrey Stroupe wins Scholastic Art Contest's highest recognition: The Gold Key
Senior Audrey Stroupe has been a four-time volleyball state champion, yet this year she won her first nonathletic recognition in the Scholastic Art and Writing Contest, the Gold Key.
"As this is a juried competition, entering this contest is an excellent addition to any art student's resume. Earning the Gold Key is an additional accomplishment to add," art teacher Stephanie Woshner said. "Students earning a Gold Key also have the potential to receive scholarships from Scholastic."
The objective of the contest was to create a piece that is highlighting a social issue, or a controversial concept. Then, artists along the east coast come together and evaluate the work.  
"After paying the seven dollar submission fee, I noticed that no one else painted an animal, so I decided to do something different, and enter a portrait of my dog," Stroupe said. "Although it isn't controversial, I named the portrait 'Smarter Than You Look' because my dog is stupid."
Woshner stated that she has taught Audrey for all four years of her high school career, and she is incredibly talented with painting, yet this piece was her very first oil painting.
"Whenever we have food on our kitchen table my dog presses his nose up against the edge of the countertop, so I decided to paint a picture of him doing that," Stroupe said. 
According to the Scholastic Art and Writing Contest, art that is deemed significant in ability or content can earn varying levels of recognition, however the Gold Key award is the highest and hardest to receive. Stroupe mentioned that this contest has impacted her future by helping her choose an art related major in college. 
"There are over fifty-thousand submissions per year, and only about five-thousand students earn a reward, and I happened to get the highest award," Stroupe said. "That is what made it super special."
Stroupe indicated that Woshner encouraged her to enter, along with other art students, yet Stroupe was the only entry from our school to earn a Gold Key.
"When I found out I won I started jumping up and down with my teacher," Stroupe said. "It was a great feeling and definitely a resume-booster!"
Leave a Comment
About the Contributor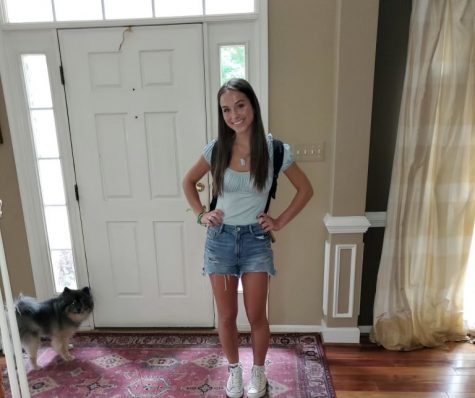 Michaela Scott, Editor in Chief
Michaela Scott is a twelfth grade student at Loudoun County High School, and is currently enrolled in her third year on the newspaper staff. This is her...