Thundermother Enters Into the World Of Women In Rock
It's no secret that the world is in desperate need of more women in the rock industry. Of course, we have the original female rock stars who will never go out of style like Joan Jet and Patti Smith. However, there has not been a dramatic increase of women in rock. 
Thundermother, the relatively new  Rock 'n' Roll band from Sweden, is surging to the surface of fame in the UK. 
Thundermother was created by Flippa Nässil when she moved to Stockholm from her original home in Tomelilla, Sweden with the dream of starting a classic rock band. Along the way she teamed up with guitarist Giorgia Carteri, drummer Tilda Stenqvist, bassist Linda Ström, and vocalist Clare Cunningham in 2013. 
"I've been writing songs since the age of 13 in Tomelilla, Skåne. I went to music school when I was 11 and then continued to the age of 15. When I was 16, I moved from home and studied the electric guitar in Rytmus (The Music Conservatory of Stockholm)," Nässil told Guitar Girl Magazine in the article "All Swedish Girl-Band Thundermother and the New Album Road Fever " written by Tara Low. "In university, I became a music producer where I studied music production. Now I own my own record label, I write songs on a regular basis and play more guitar than ever. I always try to develop my skills and I've been to Africa and learned the instruments of Senegal for example. I will play 'til the day I die, probably on stage."
This group of talented women embarked on several national tours featuring their album "Rock 'n' Roll Disaster". A year later they followed up with "Road Fever" in 2015, which shot them into the European rock industry. As they started to record their third album, Carteri, Stenqvist, Cunningham, and Ström split off. 
Filled with persistence, Nässil quickly sought out new members for her band. She ended up recruiting drummer Emlee Johansson and bassist Sara Pettersson. Lead vocalist Guernica Mancini joined the crew as well in mid 2017.
Some of the band's biggest influences are rockstars known across the world. 
"AC/DC since the age of 13. Also, "Ozzy" and "Rage Against The Machine " were huge influences for me in these early years," Nässil said in the same Guitar Girl Magazine interview. "Before I played guitar, I was a professional nyckelharpa player. It is a Swedish folk instrument."
 In February 23, 2018 Thundermother released their third album, "Thundermother". 
The self-titled album consists of thirteen songs, "Revival," "Whatever," "Survival Song," "Racing on Mainstreet," "Fire in the Rain," "Hanging at My Door,"  "Rip Your Heart Out," "The Original Sin,"  "Quitter," "We Fight For Rock N Roll," "Follow Your Heart," "Children on the Rampage," and "Won't Back Down."
"Racing on Mainstreet" is the perfect song to sing when flying the highway with the windows rolled down. A catchy, screaming guitar riff paired with pulsing drums and heated lyrics make it something that any rock fan can enjoy.
Thundermother brought back the riff-heavy classic rock sound, and changed the game with their all female band. 
They even adapted their own slogan, "we fight for rock 'n' roll", which they featured as one of their songs. 
Pettersson left the group and was replaced by bassist Majsan Lindberg shortly after the production of "Thundermother." 
Their older music got their foot into the door of rock in the UK, but where Thundermother's potential lies is in their most successful and recent album "Heat Wave", which was released on July 31, 2020. 
"Heat Wave" also consists of thirteen songs: "Loud and Alive," "Dog From Hell," "Back In '76," "Into The Mud," "Heat Wave," "Sleep," "Driving In Style," "Free Ourselves," "Mexico," "Purple Sky," "Somebody Love Me," and "Bad Habits". 
 "Heat Wave" is a perfect collection of hard rock songs which not only feature a few punk aspects, but blues as well.
"Loud and Alive" starts off with pounding drums, and you can hear that Johansson puts her whole heart into her music. Next, a catchy lead guitar riff played by Nässil is backed nicely by Lindberg's bass, and when added with Mancini's impassioned vocals, the song leads to a strong, confident sound.
Another great addition to the album is "Free Ourselves," which displays the ladies' talent for the rock genre. "Free Ourselves" enters with a bang; a heavy guitar riff that is seamlessly joined by upbeat drums, and classic rock power chords. Mancini takes on blues vocals, and paints a call to action when singing "we need to trust one another again". 
When "Somebody Love Me" hits the scene, Mancini flawlessly tackles heartful and brash lyrics by singing "I'm a giver not a taker/ I'm a rock'n'roll star/ I'm the queen of the bar/ And I'd like to see you later/ I'm the one with the mic/ In the flash of the light/ You might see me as a goddess/ But when the sun goes down/ And I take off the crown/ I'm just the neighbors daughter."
With Johansson pounding the drums and a rocky guitar riff, Thundermother rolls right into the catchy chorus that will stick in your mind even after the song is over. Nässil shows off her skill with a guitar build-up that crashes into a wicked solo of lightning fast notes played in rapid succession. 
"Heat Wave" carries on the sound presented in the self-titled album "Thundermother" and was produced by Soren Andersen, guitar master and music producer extraordinaire who worked with legends like Glenn Hughes and Mike Tramp. 
Out of Andersen's studio in Copenhagen, Denmark, Thundermother crafted their greatest success yet under a new label, AFM Records. 
Andersen even said the band was "a match made in heaven." 
While success might be sweet, Lindberg put out a statement on her Facebook page saying she was temporarily leaving the band in order to focus on her education. 
"What I've done is that I entered education last year and this is something that I really need to finish. This is due to financial reasons," Lindberg wrote. "This unfortunately means that I can't be going on tour with the girls for a while, which really sucks, but it will be for the better in the end. So what I want to do now is wish the girls and everyone involved the best of luck with this tour and that they have so much fun and enjoy it." 
For a short while the band dreamed of coming back together, but Thundermother announced that Lindberg had officially parted ways two months later. 
Going on their fourth bassist, Thundermother scooped up Mona "The Demon" Lindgren, who often goes by DeMona. 
 "Thundermother is bigger than the band itself," Lindgren wrote as she took over Thundermother's Facebook and Instagram pages for a day. "It's about bringing Rock 'n' Roll back to where it should be- blasting from the world's biggest stages/ With that being said, they deserve the most passionate and committed people to work for them on this path and I can not wait to amp up the hard work."
Mancini, Lindgren, Johansson, and Nässil toured throughout Europe during the pandemic. This included several rock festivals like Wild Motors & Beach Party and Rock AM Strand. 
They have a number of tours scheduled for "Heat Wave" in the 2022 year as well, but do not seem to be coming to the United States. 
Regardless, Thundermother is a step forward in women joining the rock industry. They are a band to keep your eyes on and hopefully new groups of lady rockers will use them as future inspiration. 
Leave a Comment
About the Contributor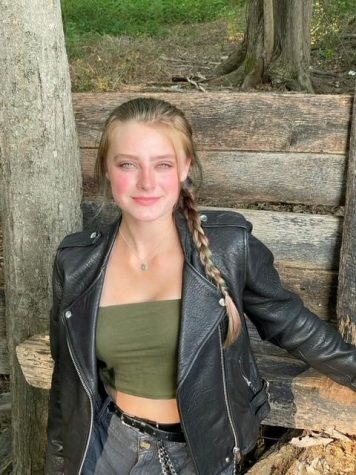 Olivia DeWan, editor-in-chief
Olivia DeWan is a senior, and this is her third year in Newspaper. She loves writing about musicians, sports, and influential students. She will be attending...