SCA Showcases Club Holiday Trees
ART, AVIATION, DECA, EDUCATORS RISING, LATIN CLUBS
In honor of the holiday season, the Student Council Association has put together an arrangement of Evergreen trees outside the cafeteria. The clubs that took charge of decorating the five trees are the Art club, Aviation club, DECA, Educators Rising, and Latin club.
In order to play a role in the holiday tree decorations, each club was given fifty dollars from the Student Council Association and had the opportunity to accessorize their tree for the purpose of promoting their club.
The main initiative of the Aviation Club is to introduce aviation opportunities to students interested in learning about aviation and potential career opportunities. Senior club leader James Leathers mentioned that some members have never experienced flight, while others have access to private aircraft.
"When Mr. Post, the Aviation Club sponsor, informed us about the opportunity to decorate, our club members quickly got to work spending their mornings decorating the tree," Leathers said. "We really want to promote our club to potential members, and share the holiday spirit."
Educators Rising is a club which is directly connected to the field of Education and provides tutoring opportunities at LCHS feeder schools. The primary purpose of this organization is to encourage students to explore careers in education. Teacher sponsor Kathleen Evangelisto indicated that students can make a difference in the community through tutoring, fundraising, and participating in events such as Trunk or Treat and assembling SMILE kits with other LCHS co-curricular clubs.
"We were interested in participating in the holiday trees because future teachers have spirit," Evangelisto said. "It was a great opportunity for our dozens of Educators Rising members to decorate ornaments and make new friends."
The Latin club promotes all things classical, and its initiative is to make the study of Latin relevant. The club focuses on embracing the immortal words of ancient writers and appreciating the wisdom of the ages. Teacher sponsor Lynn Krepich included that the Latin students were thrilled to take part in this event.
"We have spent about three days adorning our tree," Krepich said. "The students are so grateful for this unique experience to promote the value of studying the classics in 2021."
The art club's purpose is to allow students who are enrolled, or not in art classes to have an abundance of enjoyment to let their creativity flow. Senior club leader Ceci Stewart mentioned she has been looking forward to decorating the holiday trees for years.
"Every year I have seen them decorated and was always interested in helping out but never knew how," Stewart said. "When I learned that clubs were decorating the trees, I immediately reached out to Mr. Prince to get our club involved."
The fifth club that participated in the holiday trees activity was DECA. DECA is a co-curricular club for marketing classes where members compete at competitions throughout the year and get to travel to conferences to compete in role-plays in front of judges.
"We loved the idea of our members getting the chance to design their own ornaments and get involved with school spirit," teacher sponsor Jessica Rossie said. "It was super fun to get the entire club involved with decorating."
Each club assembled their tree to fit their personal club initiatives; some groups ordered specific ornaments, and some clubs made them from scratch during the monthly club day.
"My students are crafting their ornaments to depict aspects of Roman culture," Krepich said. "We spent our club day this past month decorating plastic ornaments and crafting snowflakes with Latin phrases and cultural aspects of the Greco Roman time period."
Evangelisto said that senior club leader Brenna McManus came up with the main decor for the Educators Rising team. "Her excellent repurposing idea was based on using plastic and wooden ornaments that were decorated with paint, ribbon, and shredded choral music that was going to be thrown out." Evangelisto said.
DECA used their fifty dollars from SCA to order lights, tinsel, and DECA-colored ornaments. "Our members designed and colored paper diamond ornaments during club day," Rossie said. "Our officers also came in early in the mornings to assemble the ornaments."
The Art club members used their club day to come up with ideas for the tree decorations, which were all handmade in the art room or donated to the tree. "The process of decorating the tree was strung across a couple of days for me," Stewart said. "As paint brushes, and art tools were donated, I would use my study hall and art blocks to add them to the tree."
The Aviation club purchased supplies, including cotton to replicate clouds in the sky, 3D-printed airplane ornaments, and spent their mornings decorating their tree. "Our club members who have access to 3D printers have played a large role in gathering our ornaments, and creating paper planes," Leathers said.
The groups involved in the holiday tree showcase each shared how this event was a special experience for their club members to connect and celebrate the holiday season within their club.
"Our tree celebrates Saturnalia, a Roman festival held from December seventeenth through the twenty-fourth, in which gifts of candles and silver were exchanged," Krepich said. "Our club is so grateful for the Student Council Association's pecuniary contribution to ensure this arboreal creation for our students."
Leathers mentioned how his club really wanted to encourage new members into the Aviation club through the event. "This is the first event that we have been invited to, and we look forward to being included in future school events," Leathers said. "Our club is open to new members anytime, we meet after school in room 162 every Monday."
The Art club dealt with some mishaps during the process of obtaining their tree, but Stewart mentioned how the club adjusted to their smaller tree, and made it to represent students' art. "Other than the slight challenges, our tree was still beautifully decorated to represent the Art Club," Stewart said. "Our members made my dream come true by helping with the tree decorating!"
DECA's officers played a major role in participating in the club event. Rossie indicated how the operation took about thirty minutes with a total of five officers helping. "You do need to be in a marketing class to join DECA, but we would love to use this opportunity as a way to encourage students to take a marketing class next year," Rossie said.
Evangelisto indicated that the tree decorating was completely student-run, and time is running out for new members to join. "Educators Rising officers handled the entire operation which was super fun to watch," Evangelisto said.
Overall, the SCA sponsored holiday tree decorating display was a successful way for the clubs to wrap up 2021. "These Captains love connecting with peers and being creative," Evangelisto said. "I am so proud of how inclusive, welcoming and spirited they are!"
Leave a Comment
About the Contributor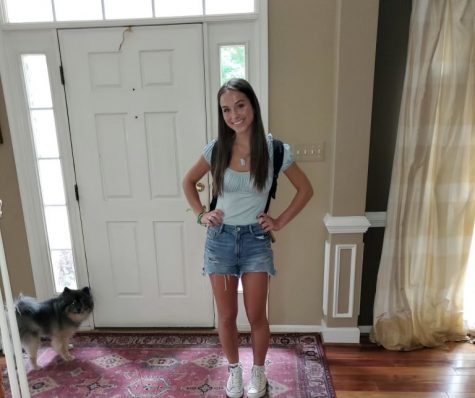 Michaela Scott, Editor in Chief
Michaela Scott is a twelfth grade student at Loudoun County High School, and is currently enrolled in her third year on the newspaper staff. This is her...