Meet the 2020-2021 additions to Loudoun County's Athletic Hall of Fame
The Loudoun County Hall of Fame Induction sheds light on the exceptional athletes that have come through this school. Due to COVID, this year we inducted the 2020 and 2021 Hall of Fame classes. These athletes were inducted at half time during the Loudoun County vs Tuscarora football game due to their stellar athletic performance while at Loudoun County. 
2020 Hall of Fame Inductee Class
John Bryant – Class of 1969 – Football, Basketball, and Track – Bryant was a three-sport athlete who earned nine varsity letters for the Raiders. Bryant started both ways in football and earned 2nd Team All-District honors at defensive back (1967) and quarterback (1968). In basketball, Bryant helped the Raiders to a State Runner-Up finish in 1967 and earned 1st Team All-District honors in 1968 and 1969. Bryant accrued school records for points per game and assists.
John "Bunky" Murphy, III – Class of 1976 – Football, Wrestling, & Baseball – Murphy earned nine varsity letters while playing for the Raiders. He was the starting quarterback in football as a senior and earned the team MVP in 1975. A four-year wrestler, Murphy twice won the District title in his weight class. On the baseball diamond, he played catcher and 3rd base and batted .476 as a junior and .485 as a senior. In addition, he was the team MVP as a junior. 
Lawrence "Fella" Dolby – Class of 1992 – Football and Baseball – Dolby was a five-time letter winner for the Raiders. He was the punter for the football team and earned First Team All-District honors in 1990 and 1991 and 2nd Team All-Region honors in 1991. On the diamond, Dolby played catcher and was named 2nd Team All-District in 1991. As a senior in 1992, he batted .460 and had a slugging percentage of .711 and earned First Team All-District, All-Region, and All-Met.
Adina Trammel – Class of 1998 – Girls' Basketball – A four-year starter and letter winner in basketball, Trammel served as team captain as a junior and senior. She was twice named First Team All-District and led the 1996 Raiders to the school's first 20-win season and state tournament appearance. As a junior, she averaged 12.1 PPG, 4.2 assists, and amassed 193 rebounds. As a senior, the Raiders started the season 10-0 before she tore her ACL and ended her high school career with just under 960 points.
Amanda Arbogast – Class of 2007 – Volleyball and Softball – Arbogast earned seven varsity letters while serving as captain for both volleyball and softball. As a junior, she earned First Team All-District and Second Team All-Region honors while leading the team in kills, service points, solo blocks, block assists, and aces. In her senior year, she helped lead the team to a District and Region Championship and a State-Runner-Up title. She led the team in blocks and block assists and was second in kills and service aces.
Marguerite (Hanna) Lewis – Class of 2008 – Volleyball – Lewis, formerly Hanna, was a four-time letter winner in volleyball. She helped the team to a District and Region Championship and a State Runner-Up title in 2006. As a senior in 2007, she led the team to a District, Region, and State Title. For her play she was named First Team All-District, First Team All-Region, and 2nd Team All-State as a junior. As a senior she was First Team All-District, First Team All-Region, First Team All-State and Second Team All-Met. She finished her career as the Raider record holder in aces in a season (135), aces per set (1.48), and aces in a career (193) which were not surpassed until 2018.
Kerry (Sarver) Furr – Class of 2010 – Volleyball, Girls' Basketball, and Tennis – Furr, formerly Sarver, earned 11 varsity letters for the Raiders and played on teams that won six Regular Season District Championships, Seven District Tournament Championships, Four Region Championships, and Three State Championships (two in volleyball and one in basketball which was the first in school history). In addition, she won a District Championship playing tennis doubles. She served as captain of all three teams and left the basketball program as the single season (184) and career (339) record holder in assists. In 2009, she was named the LCHS Senior Female Athlete of the Year.
2021 Hall of Fame Inductee Class
Shaylin O'Connell – Class of 2009 – O'Connell earned 6 varsity letters playing volleyball, basketball, and lacrosse. O'Connell was a four-year varsity starter for the volleyball program and amassed 729 kills and 354 blocks in her career.  She helped lead County to three consecutive District Regular Season Titles (2006-2008), District Tournament Titles (2006-2008), Region Titles (2006-2008), one State Runner-up Title (2006) and back-to-back State Titles (2007/2008). For her play, O'Connell earned first team All-District, All-Region, All-State, and All-Met honors. In addition, Prep Volleyball named her an Academic All-American as well as All-American for her play.
Julie Strange – Class of 2010 –Strange earned 12 varsity letters and qualified for states in all 12 seasons of her high school career while doing Cross Country, Swim, and Track & Field. As a swimmer, Strange competed at the VHSL AA State meet all four swim seasons and helped set records in the 200- and 400-meter free relays as well as earned All-District individual swimming accolades. She was awarded the Female Coach's Award at the end of her sophomore year swim season. Her senior year, Strange was selected as a captain of her cross country, swimming, and track teams. In cross country and track, she was a 12-time All-District, 10-time All-Region and five-time All-State award winner.
Leave a Comment
About the Contributor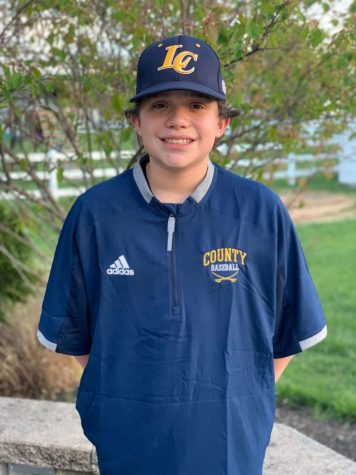 Matt Starchville, staff writer
Matt Starchville is writer for the County Chronicle and also writes for LoCo Sports. He likes to play baseball and play video games in his free time....