Happy 30th Anniversary, Nevermind!
You can't walk down the street without seeing that iconic squiggly smiley face printed on a T-shirt.
You can't go to a football game without hearing that song.
You can't think of 'rock music' without mentioning this band.
"Nirvana," while they had a short run, made the biggest impact on the rock industry to date, and today they celebrate the 30th anniversary of their most beloved album, "Nevermind."
"Nevermind" consists of thirteen songs, "Smells Like Teen Spirit," "In Bloom," "Come As You Are," "Breed," "Lithium,"  "Polly,"  "Territorial Pissings," "Drain You," "Lounge Act," "Stay Away," "On A Plain," "Something In The Way," and "Endless, Nameless."
Famously made up of only three members, Kurt Cobain, Dave Grohl, and Krist Novoselic, "Nirvana" was added to the ranks of great rock musicians in almost no time at all.
According to Louder Sound, Cobain said they "wanted a name that was kind of beautiful or nice and pretty instead of a mean, raunchy pun name like the Angry Samoans."
The band was founded by Cobain and Novoselic in 1987 in Seattle, Washington. With Chad Channing on drums, the band produced their first album "Bleach" on April 17, 1987.
"Bleach" included a set of dark songs with heavy distortion. Cobain, on lead vocals and guitar, used a Boss DS-1 Distortion pedal, which allowed him to achieve a simple rock tone.
However, "Bleach" wasn't a huge success for the new band, and Channing left shortly after the production. Not to be deterred from their path, Cobain and Novoselic found a replacement who was none other than Grohl.
With Grohl as a new formidable addition to their team, they started crafting an album the world of rock had never seen before.
Cobain decided to invoke the help of Butch Vig after meeting with several other producers and discarding them. At this time, Vig was an up-and-coming music producer.
Vig, after playing the drums for local bands, set up his own recording studio called "Sound City Studios" in Los Angeles, California.
In an article called Butch Vig, written by Paul Brannigan and published on "Kerrang" on November 12, 2020, Vig recalled how Cobain sent him a tape recording in the mail: ​"I looked at bands like The Beatles and Led Zeppelin as these untouchable rock gods… But when punk came out, I thought, ​'I could do that'."
Cobain started off saying "'Hey Butch, it's Kurt, we're excited to come and rock out with you. We're going to play a couple of new songs, and we've got Dave Grohl, and he's the greatest drummer in the world'," and Vig was blown away.
"Then I hear the guitar intro to …Teen Spirit, and when Dave hit the drums, it just completely destroyed everything. They were recording on a boom box, and so there was unbelievable distortion, but I could sorta hear the song underneath the white noise static, like the ​'Hello hello hello' part in …Teen Spirit," Vig said. "And then they played a bunch of other songs that ended up being on Nevermind, and I thought, ​'Wow, these songs are great,' even though the recording quality on that cassette was horrible."
Before Vig heard the tracks from Cobain, he was hesitant to collaborate. "Bleach" was the only music "Nirvana" had out at the time and Vig wasn't particularly fond of the sound they had created.
He said "Nirvana" were "three scraggly-looking, greasy, dirty kids."
But the underdogs quickly rose to the top.
"Nevermind" was recorded in May and June of 1991, and they completed the entire album in just sixteen days.
"It wasn't really until the time we finished [recording the album] that I started playing some rough mixes for people and they would stop what they were doing and say, "Play that again," Vig said in Nirvana Producer Butch Vig Remembers Nevermind written by Mitchel Peters. "And then I started getting a few calls from people who'd say, "I heard about the Nirvana record — could I hear something?" It started getting this buzz building up, mostly from people I know or people in the industry."
"Nirvana" performed "Nevermind" for the first time ever on April 17, 1991 in Seattle.
Their album caught like wildfire.
Two weeks after its release date "Nevermind" climbed to number 144 on the Billboard chart. The next week it reached 109, and the following at 65. "Smells Like Teen Spirit" went into rotation on MTV, which is a cable network for trending songs and music videos.
"Nevermind" was most popular with Generation X, who seemed to have a taste for darker songs.
While some of Cobain's music had a lighter pop-like sound, the majority had a new, classic tone now recognized as alternative rock.
"Smells Like Teen Spirit" is about teenage freedom and revolution. The heavy bass, unmistakable guitar riff, and Cobain's electric vocals make it the ultimate pre-game hype song.
With 1,118,287,268 plays on "Spotify", it is easily their top hit.
Their second most popular song at 682,606,434 plays, and my personal favorite, is "Come As You Are".
The lyrics are startlingly catchy with a deep meaning that each person can take a different way. In an interview Nevermind: It's An Interview Cobain said, "The lines in the song are really contradictory. One after another they are kind of a rebuttal to each line. It's kind of confusing, I guess. It's just about people, and what they are expected to act like."
Cobain sings "Come as you are/ as you were/ as I want you to be," highlighting the thousands of expectations placed upon us. Could this have been Cobain projecting some of his own insecurities and his battle with depression into his music?
I think so, but I also believe that the song resonated with his audience in a way he didn't expect.
"Come As You Are" features a light distorted tone that rapidly changes to hard rock during the chorus. The sharp bending of the guitar and pulsing drum beat can make anyone want to stand up and scream the lyrics at the top of their lungs.
Another addition to the album, "In Bloom" shows Cobain's dark sense of humor, as the song was made to poke fun at the people outside of the underground music scenes who began attending "Nirvana" concerts after their first studio album.
"Nevermind" was also the nail in the coffin to the end of the glam rock era.
Glam rock, or hair metal, was a style of rock developed in the 1970s by stars who wore outrageous glittery costumes, pounds of cosmetics, and platform shoes.
Bands such as "Guns And Roses" and "Def Leppard" who produced a heavy punk-rock and metal sound died off, paving the way for alternative and grunge bands.
The term "alternative" refers to the genre's distinction from common rock or pop music, a sound that "Nirvana" mastered with the "Nevermind" album.
There is no doubt that if given more time "Nirvana" would've made more record-breaking music, but their run was cut short with the devastating suicide of Cobain.
He'd been struggling with a strong drug addiction for several years in addition to fighting off intense depression, and finally lost the battle on April 5, 1994 at only 27 years old.
But even in death Cobain commanded attention by joining the 27 Club.
The 27 Club is a group of artists and rock stars who all died at the age of twenty seven, containing influential legends such as Amy Winehouse and Jimmy Hendrix.
The wild claim is that they all sold their soul to the Devil, who promised they could live out their fame until the age of twenty seven. Rock folklore? Or just a phenomenon?
Regardless of what fans and haters claim, they can't deny that "Nevermind" and "Nirvana" was one of the most noteworthy bands in history.
"30 Seconds To Mars" would not have started without inspiration from Cobain and his friends.
"They were a great band with a genius songwriter, who had an unstoppable voice. They made a really unusual sound together," Jared Leto, "30 Seconds To Mars" frontman, explained in an interview with Q Magazine. "But I think there was something else that Nirvana gave: it was permission for all of us to have the right to pick up an instrument and create, regardless of your skillset or talent. And that's a powerful lesson. I don't think I would be here if it wasn't for that insight."
Similarly, Rivers Cuomo from "Weezer" called The Rolling Stone to gush about how "Nirvana" influenced him and his work.
"It felt so close to what I wanted to do. I thought, ​'I can write chord progressions like that. I can write melodies like that. This is something I can do.' This was right around when Weezer started," Cuomo said. "I probably wrote The Sweater Song and The World Has Turned and Left Me Here and My Name is Jonas that month – all those early Weezer songs – and then we had our first rehearsal in February of ​'92. It's impossible to avoid the conclusion that Nevermind really inspired us to go for it."
Other bands and artists such as the "Foo Fighters" and Machine Gun Kelly" confirmed that "Nevermind" was a driving force in most of their work.
Selling over 75 million records, there is no question that "Nirvana's" "Nevermind" album was one of the greatest ever created, and while the band is no longer together, their legacy lives on.
Leave a Comment
About the Contributor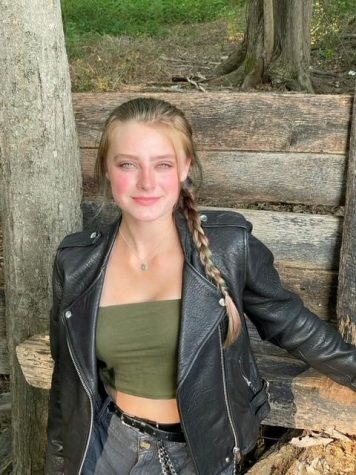 Olivia DeWan, editor-in-chief
Olivia DeWan is a senior, and this is her third year in Newspaper. She loves writing about musicians, sports, and influential students. She will be attending...