Closer to normal: 2021-2022 school year begins in person, with changes
Students are finally back at school and hopeful to get through the whole year with everyone in the building, a "normal" that has not happened in two years. 
According to principal Michelle Luttrell, it was very difficult watching students try to attend school in a distance learning environment, she felt bad for the students that had a negative experience, and she really hopes students are able to finish this year in the building.
The biggest change from the 2019-2020 school year is the mask policy. Everyone in the building is required to wear a mask, regardless of vaccination status. 
"I think that a majority of our students are wearing the masks like they're supposed to and I think the majority of staffers as well,"  Luttrell said. According to Luttrell, she and other staff members have to remind students to keep it over their mouth and nose, and the students do a good job of being respectful when asked.
Like all schools in the county, Loudoun County High School is ready just in case of a bad outbreak. 
"There are different responses to scenarios that the division has, but we would work with them to figure out the impact and then go from there," Luttrell said. 
Aside from preparations regarding unexpected COVID outbreaks, school administration has accommodated another requirement. Loudoun County Public Schools requires schools to have an advisory this year. Last year, the school day started with a virtual advisory. Students logged in from home or from their first block class for attendance and to watch the morning announcements. This is the first year the Captains have had in-person advisory.
According to Luttrell, Loudoun County Public Schools suggested that all schools keep advisory in the schedule so they could have non academic time to decompress, share information, and have a break during the day.
According to Luttrell, having students back in the school building is very different from having them online due to the pandemic that was going on.
"It's much better we get to see you guys, and we get to be able to very quickly identify what you need, and support you during the class and during the day," Luttrell said.
One concern from school administration is that after being out of school for over a year in some cases, students would not remember how to behave. Luckily, the administration acknowledged that student behaviors have been good, with only a few cases of misbehavior. 
"Honestly we've only had a very few instances [of behavior issues], but I do think it's because people aren't used to being back in school," said Assistant Principal Katie Post. "So we do have to kind of relearn how to do that. Being in a building for seven hours, five days a week is very different then being in your house."
In addition to all the required changes, the Captains had to overcome challenges related to the aging building. For several days, a broken PA system posed a safety issue because without it you can't communicate to the school if an intruder gets in, or some other emergency occurs. 
Post noted that school administration worked quickly with safety and security and building engineers to get the issue fixed "as possible because that is the number one concern we have," Post said. The issue was fixed within two weeks.
Leave a Comment
About the Contributor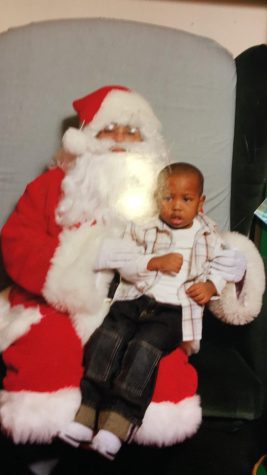 Jevonte Herron, staff writer
Jevonte Herron, Reporter
Jevonte grew up in Chicago, Illinois. He loves to play basketball and also loves to learn more about people, which makes interviewing...