Seniors personalize the parking lot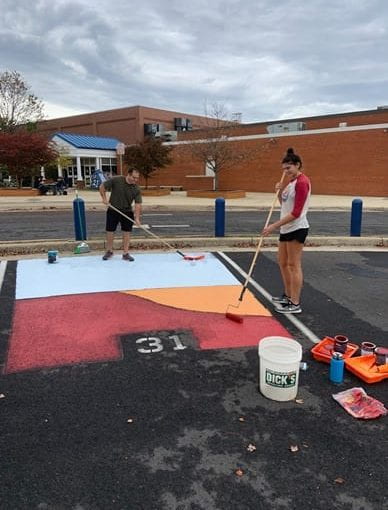 Though many students look forward to a parking lot full of splashes of color and design, Loudoun County seniors have not been able to paint their parking spots for several years. This year, that will finally change.
Principal Michelle Luttrell made the ultimate decision after she presented her ideas to LCPS for approval. The SCA executive board and Senior Delegate were the ones that were in charge of pulling this together. These members include seniors Sam Welstead, Stella Celentano, Caleb Rexroad, Fiona Flaherty, Jackson Chinn, Safa Saad, Erika Maliska, Sean Rombach, and Caroline Zanetti.
Math teacher and SCA sponsor Matthew Prince created a proposal with AP US History teacher, Psychology teacher, and fellow SCA sponsor Nancy Thomas. "We were told to wait to see how some of the other schools pulled the event off during COVID. After we observed and communicated with the other school administrations and SCA, we revised our plan," said Prince.
Prince explained that the process was a complete team effort and many people worked together in order to make it happen. "Ms. Thomas and I were talking just after we had come up with the proposal for the SCA to review and thought it would be really awesome if we could make this whole thing digital," said Prince. They then presented that idea to the group.
One member of the SCA who was very hopeful for this was senior Stella Celentano. "When we were campaigning for SCA, it's something everyone really wanted to do this year and I am really excited we're able to do it even though we're currently doing online school," said Celentano.
Seniors were charged twenty dollars in order to participate, which will go towards painting over the spots with black paint next year. This will take place near the end of next year. The school couldn't charge the normal amount for spots since students are currently unable to use them.
Celentano was surprised by how open Luttrell was and glad that Prince and Thomas were also on board to help. "They were all a big part of planning and letting us do it. Mr. Prince and Ms. Thomas seemed very eager to help," said Celentano.
Students are required to buy their own paints as well as any other supplies. They get four hours to paint each day. Painting will officially start Saturday the twenty-fourth and will be that Saturday and Sunday as well as the following Saturday and Sunday.
This new decision has improved the lives of several seniors. Senior Caroline Curtin said, "We are all super excited to hear about this news. I think the school felt badly that we wouldn't have a normal senior year, so they wanted to give us something to look forward to."
Although this has brightened many moods, it has also made others upset. "There are some people who didn't get parking spaces due to the limited number available, who are disappointed they won't be able to take part in this special event," said Curtin.
Painting spots is also a way for the seniors to show off their creativity and be unique. "I decided it would be a very Caroline thing to make mine a picture of Remy from 'Ratatouille'," said Curtin.
"My friends are doing different quotes from shows. One friend is doing a quote from the show 'The Office' and my other friend is doing a quote from the show 'Arrested Development.' I also have friends who are actually drawing something pretty," said Celentano.
Everyone involved with the planning is looking forward to seeing the finished products. They are also glad to have influenced positive change that benefits the seniors at school.
"It took a lot of collaboration and many outside hours contacting other schools and laying out the design for the event. It was great to be a part of because as a problem came up someone would step up with a solution and it was great to see everyone working together towards a common goal," said Prince.