Main office undergoes important renovation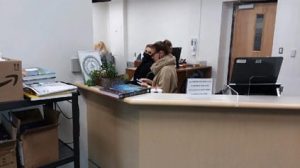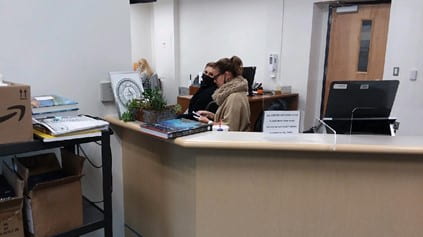 For the last several years, Loudoun County High School has been preparing for the  renovation of the main office. Engineers and architects first came to put a plan together a couple years ago, and have been planning ever since then.
"The District decided to update all of the schools that did not have a double-layer of security for the main entrance," said secretary Amy Perkins, who spends most of the school day in the main office. Even though security was the reason for this renovation, the impact of those changed caused the whole main office to be revised. This was to ensure that the second bank of security doors would fit inside the given space.
These second bank security doors remain locked during school hours. "All visitors will have to enter the main office, whereas before, they could easily bypass the office and walk through the school," Perkins said. "Once in the lobby, they will have to be buzzed into the office. If we determine the visitor is a threat and don't want to admit them into the office, their only choice is to leave."
Some of the other new additions to the main office include a new front desk, an added enclosed workroom area, a new office for attendance secretary, Mercedes Keener, and security cameras installed in the main lobby and office.
Fortunately, COVID-19 didn't impact this renovation that took place in the summer. "Most students, unfortunately, have not seen the new changes," Perkins said.. "The staff that have seen it, have said that it looks much nicer."
"In my opinion, the changes are very positive," said secretary Kathy Garrison.
Perkins agrees. "The renovations have made the school more secure and safer for students and staff," she said. "The front office also just looks a little nicer/neater."