"New for all of us" – Sims looks forward to the final season of his high school football career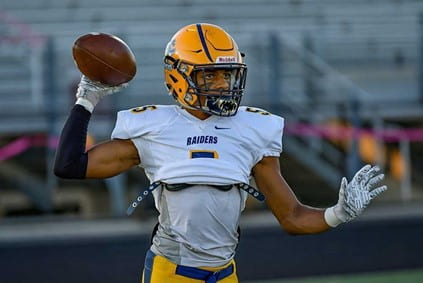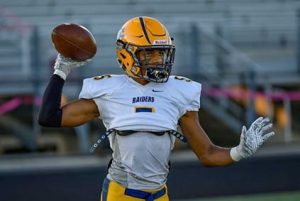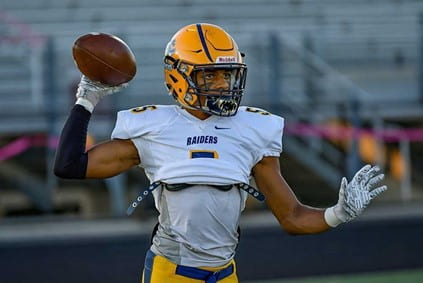 Tariq Sims believes that because he is a senior now, he is one of the people on the football team that people look up to.
''Being a senior has made me feel like I am being looked up to by a lot of the lower classmen which makes me push myself even harder to set an example for them to carry on the legacy we have created at the county," said Sims.
Sims thinks the season will be different without having their big crowds due to the COVID 19.
"Of course we love our fans, parents and students who come to support us, if we focus enough on the game and have team energy I'm pretty sure we will be fine but it will be a huge loss in our history because we get pretty big crowds," said Sims.
The pandemic has helped Sims establish his outlook about taking everyday seriously and giving your best at all times.
"Don't take everyday for granted," said Sims. "Make everyday count, every rep count. It could be your last year playing football ever again. You don't want to grow old saying 'I wish I could've broken this record.' Make that happen so the kids under you can watch that and be like, 'man, I want to do the same thing but better.'"
Due to coronavirus, their workouts just started, but he has been getting workouts in with a few of his teammates.
''As a team we just started doing workouts recently due to COVID and the cancellation of our season, but me and a couple of guys always got together and ran routes or did field work to stay in shape, and get better on our agility," said Sims.
Sims, a D1 athlete next year at Old Dominion University, is feeling really good about the work he has been putting in and helped him earn a scholarship.
"Being a D1 athlete is an amazing feeling because it's something I have been working for my whole life and it was definitely very hard to get here," said Sims. "I've been doing this sport for 11 years and to see that my work has paid off to get to where I am at right now. It's only making me more motivated to keep on going. You have to do the little things to get here, like grades are most important when it comes to being a D1 athlete, but the most important part of it all is getting the education for my family and graduating."
As Sims focuses on his last year at County he is ready to be a leader of the new renamed Captains. The Loudoun County School Board voted to replace the former mascot "Raiders" due to its associations with slavery.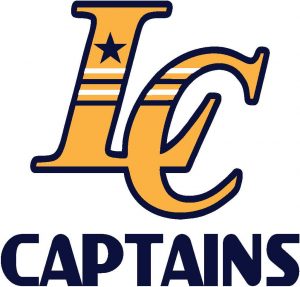 "Once a Raider always a Raider, but to me it doesn't really matter we are still the same, and we have a new coaching staff, so yes it is different to an extent because this is new for all of us but it doesn't change how we are going to approach the upcoming season."
Head football Coach Matthew Reidenbaugh believes Tariq can do big things this season.
"As soon as Coach Reidenbaugh saw me he said that I can do huge things this upcoming season and I look forward to it," said Sims.
As he looks beyond high school, Sims thinks Old Dominion University is a good school for him, in terms of both education and the athletic department
"Well when I was thinking about picking where I wanted to continue my next four years, I wanted to go somewhere I could make a difference at, not just a school that wins games all the time," said Sims. "I Looked at it as I want to go somewhere I will feel comfortable with the coaches and players. They have a great business program and that's the main reason, obviously, because education comes first. Then the fact it is by the beach is also a huge plus, it is an FBS school and I want to win a championship and play in a bowl game."
When he considers his future, Sims feels confident about his decision to atttend ODU.
"I was very proud, one because it was my first full ride scholarship offer and because it's actually a pretty well known school in Virginia, the coaching staff is amazing, my future teammates are already family, we even have a group chat, my position coach Tony Lucas is a cool guy who I can talk to almost about anything."
About the Contributor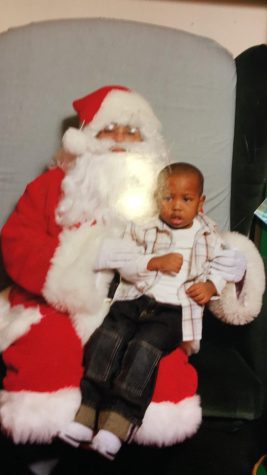 Jevonte Herron, staff writer
Jevonte Herron, Reporter
Jevonte grew up in Chicago, Illinois. He loves to play basketball and also loves to learn more about people, which makes interviewing...