Advanced Placement and Dual Enrollment: What will benefit students more for college?
Editor-in-Chief
LCHS offers eighteen advanced placement courses and six dual enrollment classes that are offered through NOVA, and with each class providing specific college credits. However, many students often face the question: which class will benefit me for college the most?
"Traditionally, the more challenging the college, the more they would prefer to see advanced placement over dual enrollment because advanced placement classes are technically, in their eyes, more rigorous," director of counseling, Dan Croyle said. "Although, every student has the opportunity to stretch themselves to be able to have that exposure for each advanced course."
To apply for a dual enrollment course the first step is to have qualifying PSAT scores or the student must pass a placement test offered by NOVA. Once the student is enrolled, the final grade earned in that course is permanent and follows into college. On the other hand, advanced placement does not require any prerequisites, although there is an advanced placement exam, near the end of the school year in May, which determines if any credit will follow the student into school after graduation.
In both courses the student should be prepared to be challenged and face difficulties along the way. One of the courses offered as both advanced placement and dual enrollment is U.S. History, a class required for graduation. Each class teaches skills that will benefit the student such as time management, how to properly study, and work in cohorts to review.
"Advanced placement is a freshman level college course, and it gives you the idea of the rigor and how to manage it," said advanced placement U.S. history teacher, Nancy Thomas. "When you go to college after taking my class, you will know how to write analytically, contextualize documents, and source them, as opposed to just reading over them."
Dual enrollment U.S. history teacher James Carr said, "The material in dual enrollment is extremely lecture based, because we want to ensure when you get to college there is nothing you haven't already encountered. If assignments are turned in late, points are immediately taken off. The students also will become competent in analyzing political cartoons and will gain an understanding of proper note taking."
The two courses collaborate and in some ways overlap based on the material. "Mr. Carr and I both look at the curriculum for NOVA and College Board, and advanced placement is more document focused; simply because of how each class is assessed," said Thomas.
Students are expected to perform at a much higher level, which also relates to the workload of the course. Carr urges his students to have a strong emphasis on studying, because the tests are purely based on applying the material that was taught. These assessments include challenging multiple choice questions, and various short answer questions that require critical thinking.
Dual enrollment and advanced placement students both develop an understanding for the value of deadlines and due dates. "The workload should be the same as a college course, and I am expecting the students to be at college freshman level as a junior," Thomas said.
"With advanced placement and dual enrollment, you need to look at who you are, what are your interests, and find out what you want to do after graduation. Look into which colleges suit you, and investigate them," said Thomas. Dual enrollment and advanced placement are both classes that should be considered as a student is choosing their curriculum with the assumption that they are making the decision to go to college. "It is not a competition; you need to figure out your own balance and prepare for your adulthood," said Thomas.
About the Writer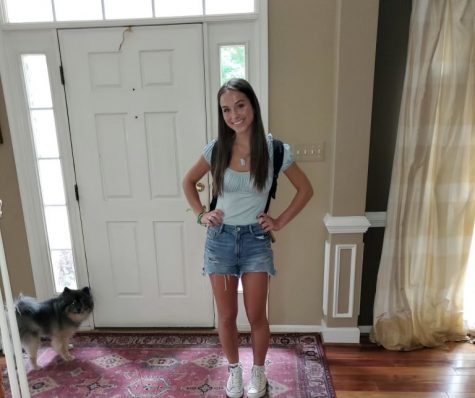 Michaela Scott, Editor in Chief
Michaela Scott is a twelfth grade student at Loudoun County High School, and is currently enrolled in her third year on the newspaper staff. This is her...