Spanish teacher puts a twist on traditional learning
How would you feel if you had to answer twenty questions from somebody you barely know? How about if you had to answer them in a different language? Teacher Joshua Brown proposed this challenge to his Spanish 4 class in February to help students practice their target language.
Brown planned the speed dating activity to coincide with Valentine's Day. Brown says the point of the activity was to try to get the students to talk to each other, only speaking Spanish.
"We have been doing a unit on interpersonal relationships, and so they had to come up with questions they would ask on a date to get to know someone," said Brown.
Brown modified an existing activity from a folder of lessons that all Spanish teachers share. The students had to speak with each other for two minutes, and then Brown would ring a bell signaling them to rotate to the next person.
According to Brown, for the most part the students really enjoyed it, but there were a few students who thought it was awkward.
Even though in the past students were hesitant to do the speed dating, they still participated. "So far I haven't had anyone who just flat out refused to do it," said Brown. He plans on doing this activity in the years to come, but says there might be some different variations.
Brown says the activity is also for them to get to know their classmates. He told his students, "I'm sure there's at least one student in here that you have never even talked to, and you have been in the same classroom with them for how many months now."
He said that there were a few students who didn't like the idea of speaking only in Spanish. "I told them at first it's going to be very hard, where you feel like it's a challenge for you to only speak in Spanish during this," says Brown.
"First I thought it was kind of a weird project, because everything he was doing around Valentine's Day was very couple-ly," said sophomore Adia Davis. According to Davis, along with speed dating, students also had to create a dating profile the class before.
Davis said it was a little bit awkward at first, but in the end everything turned out okay. The students were not allowed to pick their partners for the activity. They were numbered either one or two. The one's stayed at the desk, and the two's moved around every two minutes.
"We asked a lot of questions like what's your family like, what's your favorite color, what's your favorite food, pretty easy questions," said Davis.
Ultimately, Davis says she would recommend this activity to future students, because you get good practice on being able to speak and have a conversation, and also you get to know your classmates that you normally wouldn't talk to.
Sophomore Gretchen Allen was another student that did the speed dating activity in Brown's class. Allen said that the students wrote down 20 questions that they would ask each other.
Allen said if she had the opportunity to do this activity again, she would do different types of questions that have a theme instead of random questions.
When Brown first mentioned the activity to Allen, she said she wasn't sure if it was going to work because they were speaking only in Spanish. "After three people went by, then it was easy to remember all the Spanish that I've learned, and it was easy to think of words to communicate."
About the Contributor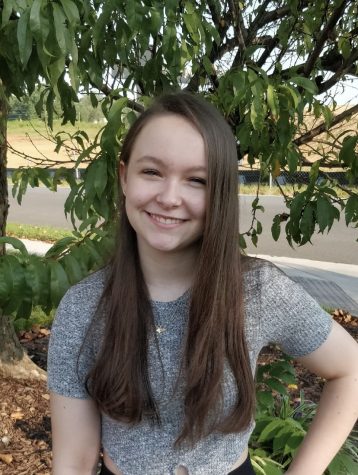 Alexis Shugars, staff writer
Alexis Shugars is a reporter for The County Chronicle, who's interested in writing about a variety of topics. This is her first year writing for the...