STADIUM DEDICATION: STADIUM NAMED IN HONOR OF FRANK SONNY PEARSON, LONGTIME EDUCATOR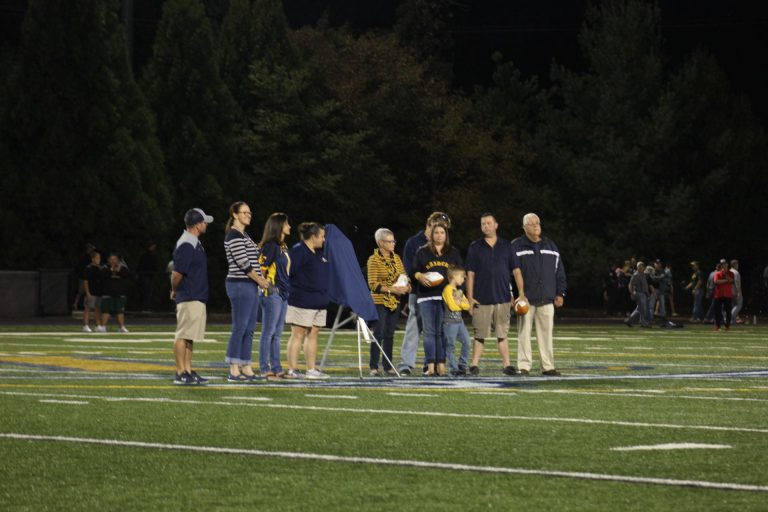 On September 20, the stadium was renamed after the late Frank Sonny Pearson. The dedication took place during the Loudoun County versus Loudoun Valley football game. Pearson's wife Jo Ann Pearson, a retired English teacher, daughter Beth Williams, also a County English teacher, son Duffy Pearson, and Grandson Franklin Williams were present.
A member of Loudoun County High School's class of 1965, Pearson played basketball, football, and baseball for the school. After serving in the Army, Pearson came back to teach and coach in Loudoun County schools for 34 years.
Williams has been teaching English in Loudoun County public schools for 16 years and is thrilled to see her father's name above the scoreboard.
"It's obviously very special, because I'm here everyday, so I feel like there's kind of this connection left with his name being on the field," Williams said.
Williams credits her mother and her father for inspiring her to be a teacher. "My parents were teachers," Williams said. "So, I guess you can kind of say it's in my blood. I saw the connections they made with some of their students."
Williams saw this connection even after her father's passing. "When my father passed away, all these former players and students that he had came back for the funeral," she said. "He just really made lifelong connections with people. I could see how much his students looked up to him."
Williams was present at the renaming of the stadium for Pearson along with her mother, her son, and her brother. "It was good, it was quite an honor, and it was neat to be out there with my family. It was a little overwhelming at times. It brought back a lot of memories," she said.
Williams' mother, a retired English teacher, shared Williams' feeling about it being an honor. "My parents went to high school together, so I think it was really special for her," Williams said.
Athletic director Kate Cassidy was instrumental in the renaming of the stadium after Pearson. "I have known the Pearsons for years," said Cassidy. "He's given a lot to the community, and I thought it was the proper thing to do."
Pearson coached at Loudoun County, Loudoun Valley, Park View, and Heritage, and he was a physical education teacher for 34 years, according to the LCHS fall sports program.
Although it isn't easy to rename a stadium in Loudoun County, there was a lot of support for Pearson.
"You have to get letters of support from myself, Dr. Luttrell, the SCA, the PTA, and then we have to apply to the county, and the county then takes it and checks to make sure the person has good character, good standing," Cassidy said. "Then it goes to a school board committee and a financial committee that talks about it. Then it goes to a school board meeting where they present it to the public."
Cassidy had to return a month later when the board voted on it.
Williams said her father taught her to be kind.
"To treat everybody equally," Williams said. "He really didn't care what color someone's skin was or how much money they have, just be kind to everyone. You don't know what kind of road someone else has to walk, so you should always be nice."