Raider Alumni inducted into Hall of Fame
Anna Claire Mitchum | Raider Staff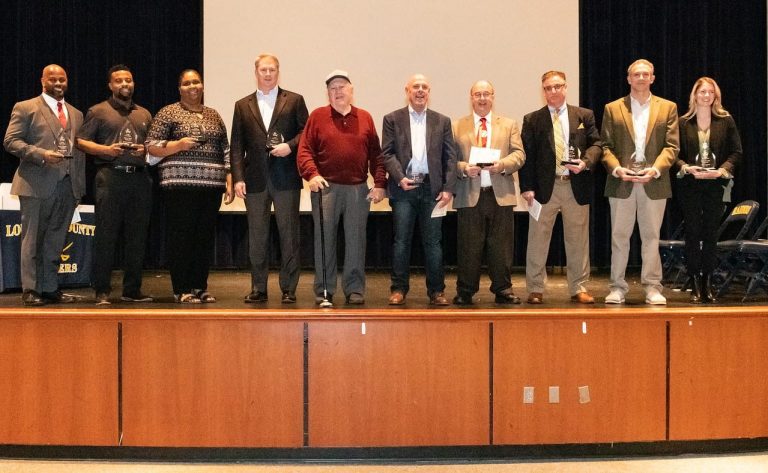 Every year, the athletic department inducts new members into the Hall of Fame. This year's induction, after being rescheduled due to Hurricane Florence, was held on January 4.
According to athletic director Kate Cassidy, the recipients are nominated by members of the Raider community. These individuals have demonstrated greatness in their sport, whether by participating in it or coaching. This is the Hall of Fame class of 2018:
Maurie Alcala, Basketball, Track, Class of 1992: Alcala was crowned the Virginia AA State Champion in 1992 in track for shot put and discus.
Scott Anderson, Football, Basketball, Baseball, Class of 1986: Anderson set several records in baseball and played for the Spiders on a conference championship team in 1987.
Gary Cochran, Baseball, Basketball, Golf, Class of 1961: Cochran was the captain of the first Raider golf team and later played in the Virginia State Amateur golf competition.
Rick Furr, Football, Basketball, Baseball, Class of 1976: Rick Furr set records in football, and later, was the first Raider to play in the Atlantic coast conference.
Dhata Harris, Football, Wrestling, Track, Class of 1994: Harris finished third in wrestling in the state on the Group AA heavyweight division, and was in the state championship for the discus.
Stevie Jackson, Football, Basketball, Track, Class of 1997: Jackson led the Raiders to a 24-7 overall as a varsity starter, with 10-0 his senior season.
Mark Kirk, Baseball, Football, Wrestling, Class of 1977: Kirk was named All-District in football and baseball a combined five times. He was also in the regional tournament in wrestling for three times.
Whitney Knudsen, Volleyball, Basketball, Softball, Class of 2004: Knudsen was All-District and All-Region for basketball, and first team All-District, Region and State for volleyball and softball.
"Bootsie" Leonard, Football, Baseball, Basketball, Class of 1956: Lawrence "Bootsie" Leonard led both football and baseball to undefeated seasons, he later coached the first state championship team in Loudoun County Public Schools' history.
Jimmy Parker, Baseball, Basketball and Softball Coach, 1973 -1999: Parker coached the softball team to 10 championships, including the 1993 Northwestern District and Region II titles.
Amy Sarver, Basketball, Volleyball, Tennis, Class of 2006: Sarver was a member of the region champion and state runner-up team for tennis. She also played volleyball for the Loudoun's region championship team in 2005.
Although it is important to look back and appreciate the hard work former athletes have put in to making our current athletics program great, we can also look forward to the people who at this moment are making history. The open nominiation process means that when students have grown up, they can reflect on the people who inspired them to do their best, Cassidy said.