Raiders swim to success
Jake Joseph | Raider Staff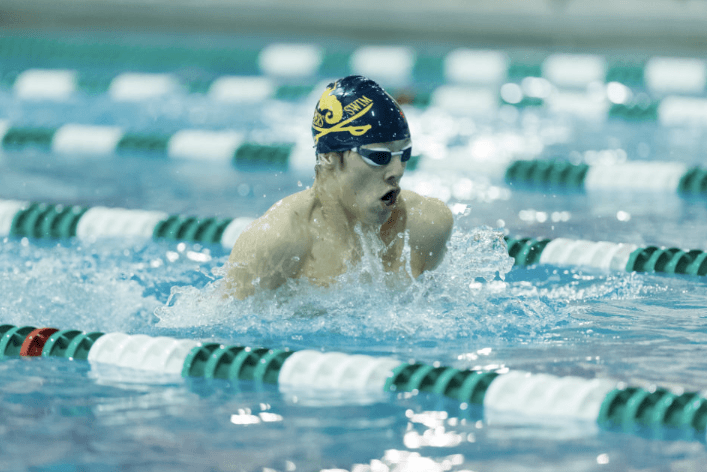 The swim team at Loudoun County High School has always been known for its success. Throughout the years, the team has had an impressive amount of swimmers qualify for states. The swim team has created a culture of winning, and there seems to be no end in sight.
Last year, the swim team were the runner up at both the conference swim meet and the regional swim meet, sending a multitude of swimmers to the state meet. This year, the Raiders have started off strong, with a 193-85 victory over Loudoun Valley High School. Already, a multitude of swimmers have qualified for states.
Junior Shane Hunter has qualified for the state meet in the 500 Freestyle, the 50 Freestyle, and the 200 Medley Relay team with sophomore Gavin Wagner, senior Kyle Backus, and junior Colby Koenig. Wagner has also qualified for the state meet in the 100 Backstroke, and Koenig qualified for the state meet in the 100 Butterfly.
One of the biggest parts of the team's success, though, is the team's chemistry. "The team has a high energy environment, which is perfect for having fun while still making progress in the water," said Koenig. "I feel that the team has a unity you don't really get with other sports. Most people consider swimming as an individual sport, but everyone is always on the deck cheering for each other, which really makes it seem like we depend on one another."
The bond between the athletes is very important to the team's success. Before every meet, one of the seniors hosts a pasta party for the whole team. "My favorite part of being on the team is the pasta parties," said Koenig. "They're a ton of fun."
Another essential piece of the team's success is the coaching. The coaches support the players and help them be the best they can be. "The coaches are the reason the team is successful," said Hunter. "They're super supportive and I've really learned a lot from them."
The Raider swim team isn't just all business. They also like to have fun. "Every once in a while we'll mix up the stretches we do before we get in the pool," said Koenig, "Sometimes we do some funny ones, and sometimes I'll give a motivational speech before we start."
The Raiders hope to continue their sustained success this year, and so far, it looks like they're on track to do so.