Three summer globe trotters: students travel to Mongolia, Thailand, Poland
Kendall Chambers | Raider Staff
When school starts in the fall, students are consumed with studying, extracurriculars, and spending Friday nights at football games. In the summer months, though, students traveled from Europe to Asia exploring foreign customs and cultures. Passports were stamped, world views were broadened, and memories were made. From trying new foods to visiting new cities, three students experienced the adventure of a lifetime.
Senior Sofia Fagan spent two weeks traveling through Mongolia on horseback. Her inclination to travel to Asia stemmed from her interest in learning about ancient cultures.
"I think Asia is one of the most diverse regions; it's extremely different from Western culture, and I wanted to gain a cultural experience by interacting with the Eastern World," Fagan said.
Fagan describes herself as being selective with her food, so trying meals that incorporated lamb and goat was out of her comfort zone. "Trying new food and getting to experience how different families cook their meals was something that I believe pushed me to not only try new things, but also connect with the families we were staying with."
According to Fagan, the difficulty of the horseback riding aspect took her by surprise. "We rode six to seven hours on horseback per day, and although I had trained for the trip, I didn't know it was going to be that intense every day. But, I think the group that I went with was very resilient."
Recalling her favorite memory from her time spent in Asia, Fagan said, "on the trip we got to connect with five men who had lent us their horses. They were riding with us the entire time for safety measures, and they acted as guides. In the evenings, we would all sing around the campfire with the horsemen, learn Mongolian songs, and teach them American songs as well. I truly loved that experience because we got to share something despite our language barrier, and we were able to communicate without understanding each other."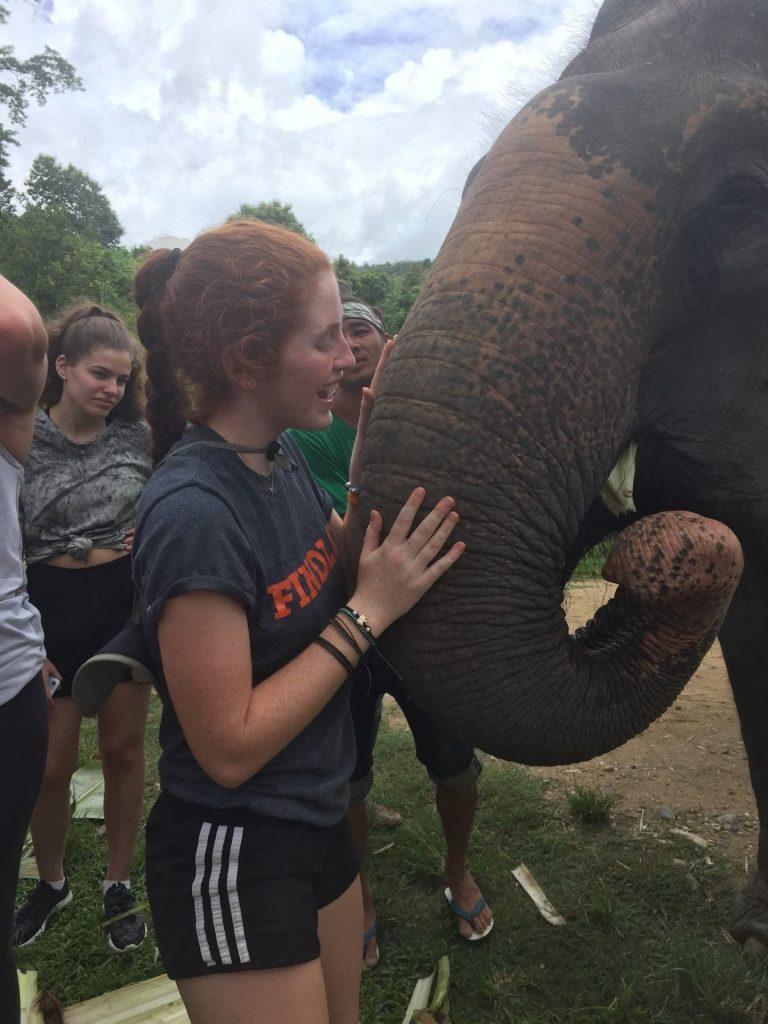 In Chiang Mai, Thailand, senior Nicole Uehlinger volunteered at an elephant retirement park. "I got a booklet in the mail for volunteer trips and decided to look through it. I saw the trip to Thailand and immediately fell in love with the idea," Uehlinger said. During her ten day trip, Uehlinger explored the Thai cities of Pai, the capital city, Bangkok, and Chiang Mai.
Located in Northern Thailand, Chiang Mai is packed with street markets and ancient temples. Aside from the lively culture, Uehlinger's love of animals encouraged her to participate in this experience, which allowed her to work hands-on with elephants. It expanded my horizons in terms of what I want to do with my life," Uehlinger said.
When she wasn't tending to elephants, Uehlinger was making memories with her volunteer group. "When we were sleeping in the jungle in bamboo huts, nobody had their phones, so we ended up just making shadow puppets in the bug nets and telling stories."
Having no access to technology led Uehlinger to learn just how much she values enriching experiences, which she cites as a common theme of her trip. "The biggest thing I learned from my trip is the value of experiences away from home and immersing yourself in other cultures."
"The last time I went to Poland was five years ago," junior Julia Houck said. In June, Houck traveled to the Polish town of Rożnów, where her grandparents reside, and stayed for two months.
With a population of just 1,700, Rożnów boasts mountains and lakes that create picturesque views for its residents. "Not many people know about Rożnów," Houck said. "It's an hour away from Kraków, which is a larger city." The medieval city of Krakow bustles with cafés and is home to the 13th century church St. Mary's Basilica.
Houck has an appreciation for Polish culture, and even speaks some Polish herself. "I feel like Poland is very similar to the U.S.," Houck said. "People may think it's really different, but I feel like there's a lot of similarities."
As for her favorite Polish dish: "pierogi with strawberries." Houck said that though she wasn't born in Poland, her mother was. "She lived there until she was about 18 years old." Her grandparents aren't the only ones in her family who reside in Europe; her cousins from Ireland and France also accompanied her on the vacation. "My favorite memory would have to be when all of my cousins arrived. We all had an amazing time together."