Artist of the issue: John Wolcott
The art wing is a hidden gem, showcasing amazing and creative student work. Senior John Wolcott is being recognized for his beautiful and intricate paintings.
Wolcott has been creating art since elementary school and has learned an array of skills over the years, through classes such as Art I, II, III, VI, and photography.
"Art is a creative outlet that helps me relieve stress. It also gives me a way to express myself and explain stories and moments of my life through different mediums like painting, drawing, and photography," Wolcott explained.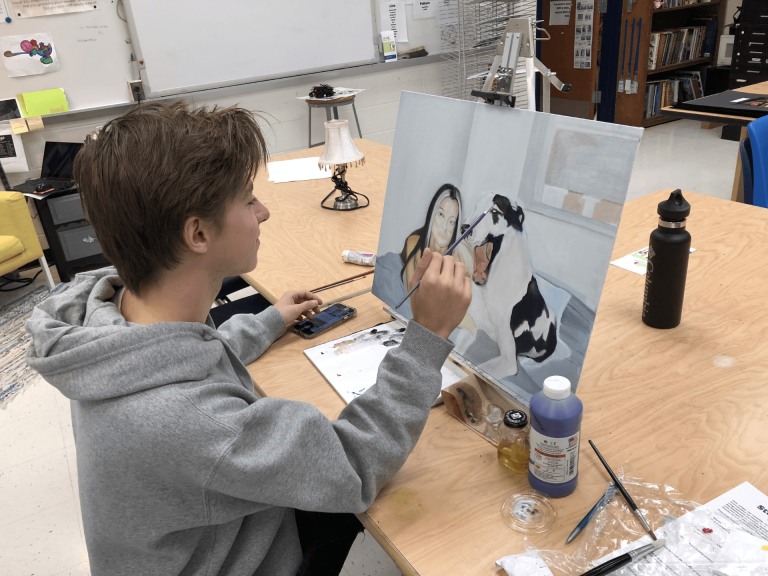 Wolcott's future plans involve art. "I hope to attend FIT (Fashion Institute of Technology) and want to pursue a major in fine arts," Wolcott said. He aspires to become a studio artist in the future.
Wolcott explained that he gets his inspiration for his art from traveling. "Traveling is a big part of my life, and seeing the beautiful views and landscapes inspires me to incorporate that into my artwork," he said.
Leonardo Da Vinci, a famous painter and sculptor during the Renaissance Era, based his artwork ideas on realism. His ideas have impacted Wolcott's artwork.
"I try to incorporate realism elements into my artwork," Wolcott said. "It makes my art appear more realistic and allows me to focus on the details."
Wolcott's favorite type of art is painting, "It allows me to express myself and I like blending colors and being able to add details to make it my own," Wolcott said.
Wolcott competed in a scholastic writing and artist competition and won the the highest award, the Gold Key. His award winning painting, "Silenced," features a boy underwater, which emphasizes the components of realism.
"This painting shows a deeper meaning about self love which I was able to portray with my use of detail and color." This was one of his most outstanding accomplishments as an artist to date. Wolcott hopes to pursue art in his future career.