"Grow our Own" program brings teachers back to the county
Imagine a lively classroom with bubbly teachers, excited students, and an engaging environment. Now imagine this same classroom ten years in the future; overcrowded with students and full of frantic teachers. This is the reality facing Loudoun County public schools due to a severe shortage in teachers.  During the 2016-17 school year, LCPS reported 34 unfilled positions, one of the highest numbers in the state.
To combat this problem, Loudoun County public schools HR has put together a new program called the "Grow Our Own" initiative. This program aims to bring students back into the county as teachers once they've graduated.
Beginning this year, eligible seniors who complete the program will receive a letter of intent from HR. This letter is a promise that if a student returns to the county to teach, they will have a job waiting for them.
"If you complete Teacher Cadet and are a member of Educators Rising, which exposes you to a classroom, you can sign a letter of intent as a senior," said teacher Patricia Virts.
"That pretty much secures you a job once you complete your college."
Teacher Cadet classes are dual enrollment courses with Shenandoah University that offer three college credits upon completion. These classes provide students with actual teaching experience, and it exposes them to a classroom environment. Teacher cadet classes provide students with forty hours of hands-on teaching experience before graduation and cover the basics of education.
For a letter to remain valid, participants in the program must complete a Bachelor's or Master's degree program in an educational field within six years of their high school graduation. Graduates must then notify Human Resources of their intention to return to Loudoun County Public Schools. As long as graduates meet the pre-employment requirements set by the county, their position is secured.
As great as this program may appear, a few concerns have risen about the qualifications of the teachers returning to the county since a letter holder would take priority over a more "qualified" candidate.
"Just because you complete teacher cadet and are a member of educators rising doesn't mean that you'd make a great teacher," said Virts. "However, you do still have to go through your college education. My assumption is that by the time you get through all that, you'll be a good teacher, or you'll decide that you don't want to be a teacher."
About the Writer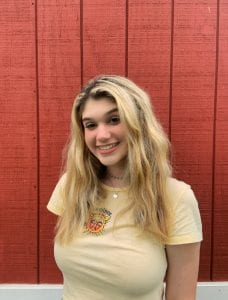 Olivia Zavadil, Managing Editor
Olivia Zavadil is a junior at LCHS, and is currently a Managing Editor on staff. Outside of school, she enjoys volleyball, photography and travel.