ANNEX DEDICATED TO MILITARY HERO JAMES "JIMMY" F. ADAMOUSKI
"BLAZE OF GLORY"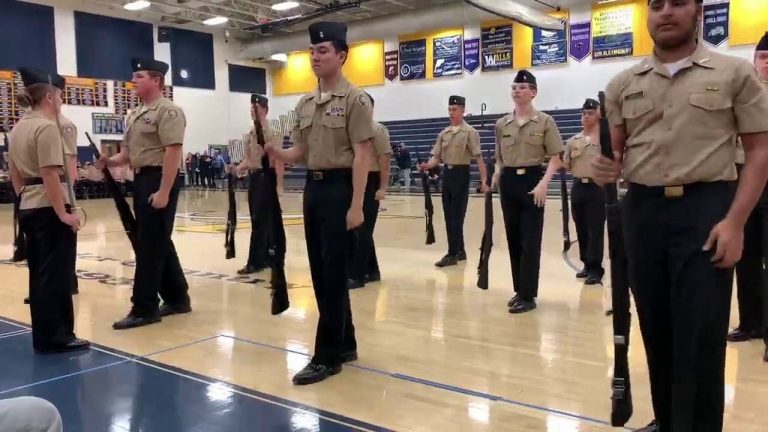 The NJROTC Annex was renamed in honor of military hero US Army Captain James F. "Jimmy" Adamouski during a Veterans Day ceremony held on November 11, 2019 at Loudoun County High School, after a unanimous vote by the school board.
"Captain Adamouski was a man who set high standards for himself and expected that from others as well," said Master Chief Deanna Foust. "That is something that we strive to instill in our cadets in NJROTC."
Army Captain James Adamouski had a distinguished military career, as reported by David Cho of The Washington Post. He served four tours in Bosnia and Kosovo prior to his deployment to Kuwait. This was to be his last tour before his enrollment in Harvard Business school. Captain Adamouski was killed in action on April 2, 2003, making him the first West Point graduate to die in Iraq. Adamouski, along with five others, perished when their Black Hawk helicopter crashed.
The official dedication occurred following a school-wide Veteran's Day assembly, during which the Naval JROTC drill teams performed. The event that followed was held for members of the West Point Alumni Association and invited dignitaries, including Loudoun County school board chairman Jeff Morse, Army three-star General (Ret) Ray Palumbo, Army General (Ret) Richard A. Cody, Captain Adamouski's sister Karen Marion, and Adamouski's father, Army retired Army col. Frank Adamouski.
"My hope is that this generation and generations to come will look at Jim Adamouski—look at how he served. How he lived his life and be inspired by it," Cody said, as reported by Tim Barber of ABC 7 News.
Adamouski's father, a Vietnam veteran, said, "He died in a blaze of glory, and he's an American hero," as stated in the Arlington National Cemetery Website Obituary.
"Jimmy would never be satisfied with the bare minimum and neither should anyone else," said Foust. "He gave his life not only doing what he loved, but to protect our freedoms. His life is a great example for our cadets and it's very fitting that our Annex be named after him. We should all strive to be like Jimmy."