Athletic director Sheppard retires after transforming community
Brooke Jones | Raider Staff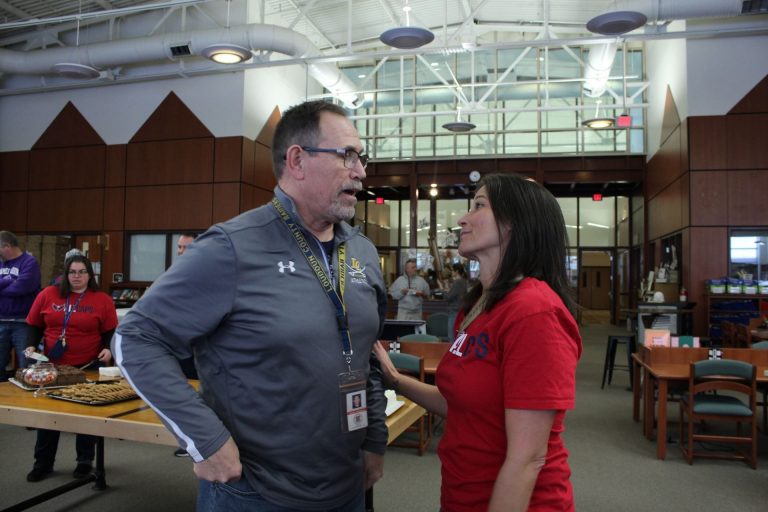 Athletic director Bruce Sheppard retired in January, after working with the Raiders for three years. He worked in Virginia for 40 years and coached for 30 years in Loudoun County before moving into athletic administration.
Sheppard redesigned and incorporated our new Raider mascot and implemented it into facility design and spirit wear, tripled athletic income in the last two years, and repainted all outdoor complexes and storage outbuildings to enhance the look of our school among other things, according to principal Michelle Luttrell.
He launched two new varsity sports programs, painted all the sound panels to match our school colors, and improved the main gyms, tennis courts, wrestling and cheer room, baseball stadium, and the softball stadium. A physical education teacher and coach of football, basketball, and track, Sheppard eventually became the head football and track coach. He first taught at Hampton City schools and coached there for two years before teaching in Frederick County for 19 years. He retired during his nineteenth year at LCPS.
Sheppard's passion for sports began when he participated in high school athletics and club sports in college.
"My high school football coach had a big impact on me, by teaching me a lot about coaching," he said.
Sheppard taught at James Wood and Loudoun Valley and then became the assistant athletic director at Woodgrove before becoming the athletic director of Loudoun County for the last three years.
"I chose to work at Loudoun County because I thought it was a great school and I knew Dr. Luttrell was doing great things," Sheppard said, knowing it would be the last full time job he'd ever have.
Sheppard's many interesting experiences from coaching span all levels. "The most interesting thing that's happened is just dealing with kids. It never gets boring, it keeps you young, and it's invigorating," Sheppard said.
Even after having been in administration, he says he still misses coaching. "All of my best memories were of working with kids outside of the classroom, building teams, building camaraderie; watching them grow and develop and improve is very gratifying," Sheppard said.
After retirement, Sheppard plans to relax, though coaching is a possibility as well. "My wife and I are avid skiers and hikers, and I fly fish, so I'm planning to get back into my old hobbies," Sheppard said.
At Loudoun Valley, Sheppard started the outdoor education club, which consisted of camping, fishing, outdoor skills, and outdoor cooking. "We learned map and compass skills, and would go on four field trips every semester," Sheppard said. After he left that job for athletic administration, his son, a teacher, took over the program.
Among the students Sheppard inspired is LCHS's own Dr. Michelle Lutrell. Luttrell attended James Wood High School, where Sheppard was a teacher. "She was an outstanding athlete and student," Sheppard said. "She played volleyball, basketball, and softball and was good at all of them." Luttrell was also in the outdoor education program. "I remember back when she hiked Old Rag with us," Sheppard said.
"Mr. Sheppard inspires those around him to become better," Luttrell said. "I am fortunate to have known him as a student, and now as a colleague and good friend. I will miss him and wish him well in his retirement."
Assistant Athletic director Kate Cassidy took over after Sheppard's retirement. She has worked with Sheppard for three years, but she coached against him when they were both track coaches. "He has gone above and beyond with doing facility improvements, like the gym, painting the entryway, new bushes outside, new windscreens," Cassidy said.
"If I had three words to describe him I would say he is charismatic, well-spoken, and a hard worker," Cassidy said. According to Cassidy, Sheppard is a workhorse, putting in the time everyday to go above and beyond. "I think he could have a job in radio if he gets bored in retirement because he is good with people and well spoken," Cassidy said.
His passion for education continues in his family. "Two of my children have followed me into education and coaching," he said. "I'm satisfied that they felt good about this profession, that they wanted to do it."
"Working at Loudoun County has been a great place to be," Sheppard said.