Restaurants of downtown Leesburg surmount challenges posed by COVID-19
Just as our school community and individuals of Loudoun County have been affected by COVID, so have the many restaurants and cafes that inhabit our historic downtown Leesburg. They have had to face a set of unique challenges posed by COVID regulations but many have found new and innovative ways to overcome these challenges.
Fireworks Pizza is a restaurant on the southside of Leesburg known for, as Jennifer Miller, General Manager at the restaurant wrote, "Amazing pizza and craft beer. We also have sandwiches, salads, pasta, homemade desserts, and wine."
Fireworks has been a part of the Leesburg restaurant scene since 2006. Its mission statement is: "To serve quality food made with the best ingredients, to have a very diverse craft beer selection, and to treat our guests like family!"
Like many of Leesburg's restaurants, Fireworks is unique in several ways.
"We have been a staple in Leesburg for almost 15 years, operating out of a historic train depot that used to be located right next to the W&OD Trail," Miller wrote. "Everything we cook gets cooked in our wood fired oven. We don't have a frier, stove top, or a conventional oven. We have a menu specifically for dogs serving unseasoned meatballs, chicken and homemade dog biscuits. Finally, we have one of the largest and most diverse beer selections in all of downtown Leesburg!"
Although a standout in Leesburg's casual dining scene, Fireworks is also integrated into the community, collaborating with several other restaurants in Leesburg.
"We work with Tuscarora Mill and South Street Under (we are all part of the Tuskies Restaurant Group) to make our dough and the cake for our tiramisu," Miller wrote, "We only have a wood fired oven and very limited kitchen space so we rely on their kitchens for the things we can't do in our own!"
Another food service establishment, one housed in a building that has existed in downtown Leesburg for 40 years and has been operated by the current owner for five years is King Street Coffee.
King Street Coffee is known for its variety of coffees, coffee drinks and also offering bakery pastries, such as croissants, muffins, donuts and empanadas.
Describing  their mission statement, Vanessa Borg, the PR correspondent for KIng Street Coffee, said, "We really just think that we're part of this historic community of downtown Leesburg. It's been a hub of coffee and people coming together and conversation for a long time now, decades, so we're just happy to be continuing that tradition and giving people a place to get really good coffee."
It seems they have achieved the goals of their mission, considering the niche they have found in the downtown community.
"I think [King Street Coffee] is unique in that there's a really great community that has formed up around it, the people who work here and who own it and want to keep us running," Borg said. "It's really nice to have seen how many people came out to support us through all of this year, so I think that kind of being that hub of community is really special."
Through Fireworks' 14 years of operation and King Street Coffee's 5 year, neither had experienced a challenge comparable to pandemic as COVID swept through the nation last year.
"COVID has posed some unprecedented business challenges," Miller wrote, "We had to reinvent our business model several times to accommodate our guests and also to be profitable during the different levels of restriction. "
Nonetheless, after trial and error Fireworks was able to come up with several ways to mitigate COVID while still servicing the community.
"We do have different seating arrangements now as tables are required to be 6′ apart," Miller wrote. "We have had to reduce our seating capacity by 33% and are offering patio seating year-round. We no longer have salt and pepper, crushed red pepper, or sweetener on the tables but instead are offering single use packets. This assists us in keeping tables sanitized. We are also using QR codes and single use menus."
Fireworks has also increased the frequency of already existing services to more effectively operate under COVID.
"We have always offered carry out but we certainly do a lot more of it now. We also started to offer contactless curbside delivery as well," Miller wrote.
King Street Coffee also evolved the way it conducted business to best work with attention to COVID safety concerns.
"The inside of our shop is a really small to really close space, so we quickly started realizing that we weren't going to be able to safely keep the inside open and distance people," Borg said. "There just isn't enough space to distance. So we closed the entire shop entirely inside and we've just switched to a walk-up window."
Some of the mitigation procedures themselves have posed challenges to Fireworks, particularly because of their added costs, which can be detrimental to smaller businesses when already dealing with COVID.
"Since so much more of our food is being packaged to-go now rather than for dine-in we have had to purchase a lot more packaging," Miller wrote. "We are not using our regular menus right now but rather printing single use menus everyday causing our usage of paper and ink to increase dramatically. Normally, this time of year we would not be using the patio but due to COVID we are. In order to keep it warm enough we have been using a lot of propane to heat it."
King Street Coffee as well has faced several challenges created by their mitigation procedures.
"In summer people can still come by, but this winter and on rainy days like today, it's been a little bit more difficult for people to feel super comfortable coming up to the window, but overall I think that, you know switching to walk up only has been really great in terms of keeping people feeling safe and keeping all of our staff safe as well as healthy," Borg said.
King Street Coffee has also had to deal with added costs from their new methods.
"We have to print new outdoor menus fairly often as we kind of experimented with trying to figure out how to run that," said Borg. "For a while we were doing deliveries of cold brew and iced coffee in half gallons." Borg explained that they had to invest in new materials to support the service, and added that the service might be brought back for the summer months. Borg continued, describing the financial challenges they've faced, "But just different stuff like that where we were trying to get creative trying to find ways to bring coffee to people's homes instead."
At times difficulties arose on exactly what mitigation procedures should be taken as the government guidelines and restrictions evolved, however appreciation for the government's effort seems to be the consensus.
"I think that it's been a little bit confusing sometimes in terms of getting conflicting information from different levels of government, but overall I think they're doing a really great job giving us guidelines that help keep everyone safe and contribute to public health," Borg said.
COVID has also affected many of the individuals working within these companies in a significant way.
"COVID has been the biggest challenge I have faced in my 20 year restaurant career," Miller wrote. "We had to completely change the way we handled business, staffing, food preparation, purchasing and more while still maintaining our high standards. We had to learn what hospitality looked like in a mask, figure out how to keep morale up with our staff, keep everyone safe, and always be ready for more change. It was stressful but also taught me so much about the dedication of my amazing staff and my own strengths and weaknesses."
During these hard times many residents of Leesburg have looked for ways to support small businesses, and Fireworks and KIng Street Coffee both agreed on the best way to do it.
"Come eat our food!" Miller wrote. "We are offering inside socially distanced dining as well as patio seating with heaters. We can prepare anything to go as well and are offering no contact curbside delivery."
King Street Coffee held the same sentiment.
"I think just like coming out and enjoying what we're offering, you know, if you like coffee then come by and grab a coffee and you'll probably love it because our roaster is great and the people who make it love making it, so you know that there's a lot of love that has gone into the product," Borg said, continuing "If you have a dog come by and bring them! We love seeing all the dogs, puppuccinos and dog treats are always free!"
Both companies also agreed on the gratitude they feel towards the support they have already received.
"Our loyal guests supported us and cheered us on through it all and we couldn't be more grateful," Miller wrote.
About the Contributor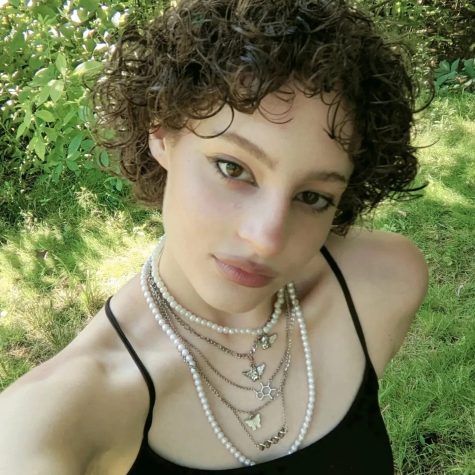 Liberty Harrison, editor-in-chief
Editor-in-chief Liberty Harrison is a senior at LCHS. This is her third year working on the newspaper staff. She would like to one day be an investigative...