PEER supports students when Distance Learning brings 'so much stress'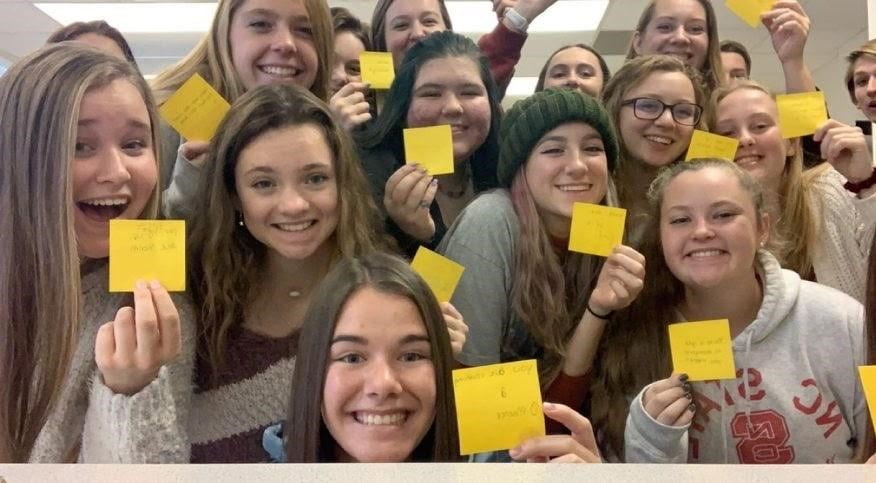 March 11, 2020 was the last "normal" day of school for students in Loudoun County. Over the past year, COVID-19 has affected the everyday lives of students, causing many to feel stressed and overwhelmed. The student mentoring group PEER has worked to find ways to overcome challenges caused by Distance Learning to help support students.
As its name suggests, PEER (Positive Experiences in Educational Relationships) is a student group whose main goal, stated on their website, is making the school a positive and inclusive community for everyone. They strive to help students with any issues they are facing, and to be there if anyone needs someone to talk to.
"Everyone thinks of PEER as it's to help people, but I feel like another one of their big goals is just to strive to make others happy and just be a happy group," senior Belle Colon said.
Colon is one of 18 specially trained student members of PEER. Peers are taught important skills and lessons by school professions before they can become PEER mentors.
"You really need to care about what you're doing," senior PEER member Alexa Novak said. "You can't just be there just to say you're doing something. You have to really care and really want to help people and not just help people, but be friends with people. You have to be very compassionate and show loyalty towards the person. If you're talking to someone and it's something personal, which is what we deal with a lot, you can't be going around spreading that."
In the past, PEER gave students the option to sign up for one-on-one meetings with a PEER mentor if they were struggling with anything related to academic stress, relationship issues, family dynamics, mental health, bullying, or just needed someone to talk to. This school year there has been even more students who have had issues related to those topics, and distance learning has made it harder for them to get help.
"The peers can help them think through some problems that they're having, unfortunately, this year, they're not letting us meet one on one, because of the COVID restrictions," 6th year PEER faculty advisor, Dorene Kuebler said, "but now that we're in school, we may be able to do that a little bit more."
Lunch on the lawn is another feature PEER was well known for. Before the pandemic hit, every last A day of the week students could go outside during their lunch period and get some fresh air and hang out with their friends. Now, PEER is holding Open Lunch Google Meets every Thursday during C lunch, which are open for any student to join. During the Google Meets they listen and dance to music, play games, and talk about their day to give students a quick brain break from school work.
"Right now, especially being virtual, it's so isolating, and it's so easy to feel invisible and to feel that you're not heard, and it's such a frustrating thing," Loudoun County High School's Social Worker, Keri Hendershot-Waymire said. "So I would offer to reach out to trusted people"
One thing Hendershot-Waymire has learned from her 14 years as being a Loudoun County Public School social worker is how much students go through. "You are all under so much stress and there's not always a place to let that stress out," Hendershot-Waymire said. She emphasized, there will always be people like PEER at the school ready to help, but students must reach out or else others won't know.
"It's really good to get the messaging out there that there's people here to help," Hendershot-Waymire said. "Even in this virtual setting that we're in, reminding people that they're not alone and if they need help, it's okay to ask for help. It's not a weakness to ask for help, everybody needs help. We're not meant to live in isolation and this forced isolation has thrown everything into craziness. We do really want to be there to help, but we can't help unless we know."
"When school first started with COVID and everything online, I was very stubborn and I wouldn't let anyone help me with my work, so I wasn't doing too well," Colon said. Colon recommends students reach out for support from a trusted adult or groups like PEER if they are struggling with schoolwork and learning online.
It's also good for students to come up with different strategies that will support their needs and will help them efficiently learn through the pandemic. "Whatever you do, try your best to come up with a good routine and good schedule to make sure that you do your work and don't procrastinate because if you procrastinate, you just keep getting into a shell of just not doing work and in the long run, that is not a good habitat," Colon said.
When students find ways that help them to stay calm or to destress it can also be very beneficial. "To help stay calm and destress I like to get outside as much as possible and be around my family so that I never surround myself with too much overwhelming work," Novak said. "Even if that means just stepping outside to get a breath of fresh air for a quick minute or walking into my sister's room to say hi halfway through the day."
Despite challenges caused by distance learning, students have worked hard and tried their best to complete all their assignments. "They [students] are doing their best and that is what matters," Novak said. "This has been a hard year for everyone and we all have had to make sacrifices and find new ways of doing things. Keep going, you are doing great."