How Sports Teams Navigate New Changes During the Season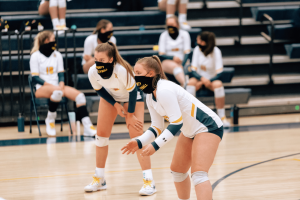 During the school year centered around a pandemic, to say it has been challenging to continue to play sports would be an understatement. Each team has had different struggles they've had to deal with and have been forced to find solutions to these problems. One issue in particular includes the suspension of out of season practices.
The deciding factors for this decision include, "Consistency from one season to the next season," according to athletic director Kate Cassidy. "Staff has shared concerns and that most are overwhelmed at this point, concerns on monitoring the mitigation strategies for out of season teams while we still have in-season competitions nightly, facility space and limitations due to COVID-19 restrictions mitigation, and increasing student attendance on school property with less supervision is a potential recipe for disaster."
With no preseason, each team has been forced to adapt. Some have chosen to simply practice twice as hard during the actual season, while others have had captains host small practices prior to the season.
"The other captains and I would host unofficial preseason practices on the turf for field hockey," senior Emily Tyler said. "Around ten people would show up to each, but coaches were not allowed to come due to regulations."
For volleyball, the Captains also had a bit of prep before the official season, an annual training camp, which is traditionally run by the seniors. "Our preseason consists of a camp that runs a week long to get to know some of the players trying out," senior Audrey Luhr, a co-captain of the Varsity team, said. "One of the biggest parts of volleyball is the relationship you have with your teammates so it prepares us for that aspect of the game."
Although they had this small amount of practice, players have had to work incredibly hard to remain in shape and prepare alone. "Our players have been prepping themselves individually by playing club volleyball and working on getting stronger mentally and physically as one person," Luhr said.
For football, the players had to adapt much differently than in the previous years due to COVID-19 guidelines. "We had such a lack of preparation this year, like no weight room, 7on7s, and scrimmages," senior co-captain Tariq Sims said. "Some of us either go to a gym or have one; our coach would also post workouts on Schoology for us to do."
For the different sports there are also different rules regarding a mask mandate according to the Virginia High School League. Some indoor sports are strict about it, while it is not as heavily enforced for the outdoor ones. However, these decisions are different for each sport.
"We are required to wear masks while at practice and on the bus going to the games, but players are not required to wear them during the games," Tyler said. Although, some players chose to wear their masks during games regardless of this in order to try and be as safe as possible.
Similarly, football and soccer are not required to wear masks during the games, unless they are on the sidelines. "This season is just overall different," senior co-captain Sam Welstead said. "The scheduling is really unique and wearing masks while playing an endurance game is really an added challenge."
On the other hand, masks are required for the volleyball players. "We have to wear masks the entire time in the gym during practices as well as during our games," Luhr said.
The number of spectators for sports has also decreased heavily this year. "Each player is only allowed to have one spectator come and watch them during the game," Luhr said. This also means that there is no student section, like there is in normal years.
"Us playing without our student section affects us and how loud we have to make the gym ourselves. We are our student section and we are now in control of how loud or quiet the gym is while playing," Luhr said.
"Not having many fans at the games is the main difference between this year and the previous seasons," Sims said. "The energy is completely different; it would have played a huge part in this season to have as many fans as possible."
One factor that has greatly impacted each sports team is the shortened schedule. "The main difference between this season and the previous normal seasons is the shortened schedule," Tyler said, "We usually have two games during the week but occasionally we will have a third game on the weekend. Which is different from last year where we would play 1-2 games during the week."
VHSL has also made the decision to change the field hockey games from two thirty minute halves to four periods.
Additionally, football faced many differences this season due to teams contracting COVID-19 and other schools not having enough players for a team. "Only two teams from our division can make playoffs, unfortunately, we weren't one of them, so we got a bowl game against Riverside," Sims said
Although football got to practice daily, Welstead explained that soccer players are practicing 2-4 times a week, and also have several games each week; she added how the shortened season can affect athletes much more mentally. "It has made teams focus and get their head in the game sooner as we realize every game counts that much more this year," Welstead said.
Although the lack of games has been disheartening for many players, it has also pushed many such as Luhr and girls basketball senior co-captain Elayna Whitley to work even harder and focus on doing well.
"As well as the rest of my teammates, I was definitely prepping for the basketball season individually by training and going to strength/conditioning training to get myself in the best position to help my team," Whitley said.
"This year has introduced us to becoming stronger, faster. Our season has been cut in half and this pushes us to build relationships and bonds faster. Our leadership has to learn how to manage the team in a timely manner due to the shorter season," Luhr said.
Luhr has emphasized the importance of remaining strong throughout this process and focusing on the things that matter.
"Our main focus is playing together and doing what we need to get done. Another focus for us is building memories we will remember forever. Our relationships with the girls on my team are ones that I will remember forever. These teammates are the nicest, most caring girls I have ever met," Luhr said.