Procedures for vaccinating the community 
As several coronavirus vaccines were approved by the FDA for emergency use authorization at the end of December of last year they began being distributed throughout the country. In Loudoun County to help with this process, special systems were set up, both for the general public and for Loudoun County School staff in particular.
With pressure to reopen schools and teachers desiring vaccines before returning to the classroom, a main goal for the county was to quickly and effectively distribute vaccines to Loudoun's teachers. To meet that goal, a building staffed with medical professionals and equipment was set up to administer vaccines to LCPS staff members. Located at Brambleton Middle School, this building is referred to as the POD and was created as a collaboration between the Loudoun County Health Department and Loudoun County schools. There have been several other locations around Loudoun set up to administer shots to other priority populations as well, such as in Dulles Town Center, which as of March was also serving the LCPS population.
Jamie Klucken, a clinical pharmacist who volunteers with the Loudoun Medical Reserve Corps, run by the Loudoun County Health Department, recounts her experiences administering shots. Dr. Klucken works as a Safety Evaluator for the FDA. Any views expressed are her own and do not necessarily represent the views of the FDA.
Klucken has worked both preparing and administering the Moderna and Pfizer coronavirus vaccines, first in a warehouse in Sterling, and now out of what used to be a Nordstroms store at the Dulles Town Center, since January.
According to Klucken, the first step to administering a vaccine is to take it out of storage, and then reconstitute it, if necessary (the Pfizer vaccine requires reconstitution, the Moderna vaccine does not). Reconstituting a vaccine refers to the process of adding a diluent to the vaccine to create the proper mixture needed for it to work properly.
"There are different types or requirements with the storage," says Klucken. She described the Pfizer vaccine, which must be stored in extremely low temperatures and is unable to be used directly out of the freezer, "We have to set out the Pfizer vaccine and let it thaw. Then we have to reconstitute it, meaning we have to add saline to it. We draw up the saline, add it to the Pfizer vaccine, and then we mix it up carefully."
After it is prepared individual doses are drawn up from the vial, up to six doses per vial of the Pfizer vaccine and ten doses of the Moderna vaccine, then it is taken to the vaccinators themselves.
Unlike many more traditional the coronavirus vaccines need certain preparation times and have certain expiration times once removed from cold storage and/or reconstituted, so the medical staff also have to plan ahead to have the proper amount of vaccines ready.
"We have a number of people coming in," Klucken said. "We are currently vaccinating 4,000 eligible people per day at our location [Dulles Town Center], and so when we are planning we have to determine how many people are coming through and whether this is their first dose or second dose. We have to make sure we have sufficient vaccines on hand for the second dose, whether they received Pfizer or Moderna. This, and our current supply, will determine whether people scheduled for an appointment that day will receive one vaccine over another."
After the vaccines are prepared and proper numbers are provided to each vaccination station, a screening process is done with all patients.
Patients are also confirmed to meet the requirements for the priority groups, 1a, 1b, and 1c advised by the CDC, that they were put in when scheduling their shot. The 1a grouping includes health care personnel and residents of long term care facilities. Group 1b includes people 65 or older, frontline essential workers, which includes teachers, people 16 – 64 with underlying medical conditions, and people living in correctional facilities, homeless, shelters, and migrant labor camps; group 1c includes all other essential workers.
Then the required dosage is drawn into the syringe: for the Moderna, 0.5 mL are needed, and for the Pfizer 0.3 mL are needed. Then the arm is cleaned and the vaccine is injected into the deltoid muscle.
"As we are preparing to administer the vaccine, we are sharing information about what to expect after the injection and when to follow up," Klucken said. "We are also screening for risk factors for allergic reactions."
Common side effects of the vaccine, especially with the second dose, which often elicits a stronger response from the body, includes fatigue, headache, fever and body aches.
"Usually people who have reactions, other than an allergic reaction, will have mild flu-like symptoms. This is pretty common after a vaccine because your immune system is reacting to the vaccine: your body is starting to respond to the antigen (the spike protein) and make antibodies,"Klucken said. "That's pretty normal for some people to have symptoms after any sort of vaccine. I always say that means it's probably working and doing its thing."
For the Moderna vaccine patients are asked to come back in 28 days and for the Pfizer they are asked to come back in 21 days.
After the injections, their lot number is written down on their card and put into a log system, so that if anything goes wrong with a certain batch of the vaccine the patient is able to have a record of the vaccine they got.
After the injection the patients are directed to wait at least 15 minutes in the POD to monitor for signs of allergic reaction, as the vaccine has been known sometimes to cause severe allergic reactions in a small number of those receiving it – 2.10 % according to a study conducted by scientists from Massachusetts General Hospital and Brigham and Women's Hospital.
"Luckily we have not seen that [allergic reactions] be a big problem with these vaccines but just to err on the side of caution we have everyone wait," Klucken said.
About the Contributor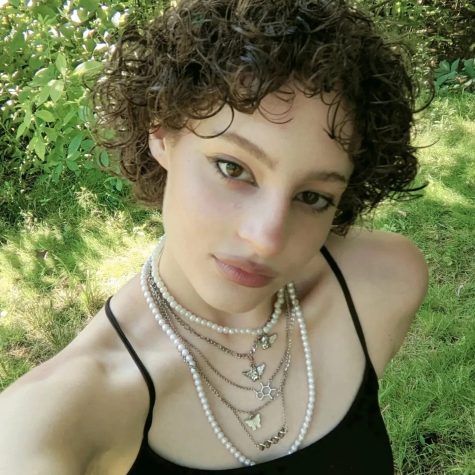 Liberty Harrison, editor-in-chief
Editor-in-chief Liberty Harrison is a senior at LCHS. This is her third year working on the newspaper staff. She would like to one day be an investigative...