Meet Caitlin Robinson, an award-winning guitarist
Caitlin Robinson is one of those people.
Robinson has been playing guitar since she was six years old, and it quickly became a huge part of her life.
"My older brother had been playing for a couple of years," Robinson said. "I saw how much he enjoyed it and wanted to start taking lessons."
Robinson did just that. She spent hours taking lessons and learning how to play. She even takes guitar as a class at County.
"I played the classical guitar for about ten years," Robinson said. "The main reason why I liked playing the classical guitar was because there were a lot of opportunities that came with that genre, such as competitors and the State and National ensembles."
The State and National ensembles represent the top performing high school musicians in the United States. To make one of these ensembles requires months of practice.
With her skills in playing guitar, it was no shock when Robinson made the ensemble. She was the only musician from Loudoun County High School, and she was playing with musicians from Las Vegas, Santa Fe, and a number of other states.
"My favorite competition was the Marlow Guitar Beatty Competition in Washington DC," Robinson said. "This is an annual competition that I had previously participated in and after over six months of work, I ended up not placing."
Regardless of her temporary failure, Robinson didn't let that stop her.
"After that difficult loss, I promised myself that I was going to win next year," she said. "I started preparing and by the next year I felt ready and confident. I was extremely nervous sitting before the panel of judges and after announcing my name and pieces I had prepared, I began to play my most difficult song."
In order to prepare for competitions such as the Marlow Guitar Beatty Competition, the musician has to work for several months on a number of different pieces.
"The year before a competition I take a couple of months to choose my pieces and then spend about one to four hours every day for at least six months practicing and memorizing the set of songs," Robinson explained.
Using that method of preparation, Robinson hoped to place first in the Marlow Guitar Beatty Competition. When playing her first song, she forgot almost half of the piece. Still, she finished her set and walked off stage devastated, for she thought she wouldn't advance to the next round.
However, the judges informed her that she had passed and would continue on to the next round the following day.
Robinson went on and succeeded in her final performances in the Marlow Guitar Beatty Competition, and was awarded first place in her age group.
"I worked extremely hard and achieved a long term goal I had set for myself," Robinson said.
In addition to the Marlow Guitar Beatty Competition, Robinson achieved a number of different awards and accomplishments with guitar.
"I was accepted two times into the PAVAN Governor's School for Guitar, and have won or placed in many competitions such as the Aguado Guitar Competition and Eastern Music Festival Guitar Competition," Robinson said. "I was also accepted into both the All Virginia Guitar and National Guitar Ensemble for 2020."
After years of hard work and winning competitions, Robinson decided to switch it up.
"I found that I wanted to play guitar as a way to relieve stress and find enjoyment instead of having to constantly be preparing for and playing at auditions and competitions," Robinson said. "When I finally realized this, I decided that acoustic guitar would be the best style for me to learn and I have been playing acoustic for the past few months."
Still, learning guitar came with a few struggles.
"One of the main struggles I faced, and I am sure many other musicians have also, is spending years trying to develop a perfect tone on their instrument," Robinson said.
Robinson had a number of mentors and friends who helped her overcome these challenges.
"I've had several amazing teachers and friends that really poured themselves and their love for guitar into me. My first teacher Patrick Fritz helped me develop key foundational skills that set me up for success in my later years," Robinson explained. "My most recent teacher, Dr. JB Taylor, taught me that beauty in a performance is not how many of the notes were 'correct', but actually how gracefully and effortlessly the notes as a whole were woven together to make music."
Robinson has collected several treasured memories along her journey with guitar.
"I used to play each week for a retirement home while they were eating dinner," Robinson said. "Watching the residents with severe dementia or medical issues be able to hum or sing along with one of my songs as I played for them was really a wonderful thing to witness."
Due to COVID, Robinson was unable to continue to play for the residents at retirement homes. With the extra time on her hands, she was able to focus more on college.
"I would like to attend any of the Virginia schools," Robinson said. "I really would like to pursue a career in the medical field though I'm not quite sure what job."
In addition to guitar, Robinson plays field hockey for the varsity team at Loudoun County, enjoys taking her dog on long walks, and she has started powerlifting.
Robinson's unfailing persistence and hard work has led her to success with guitar, and in life in general.
"The skill in being able to play an instrument well does not lie in the notes," Robinson said. "But rather how you play them."
About the Contributor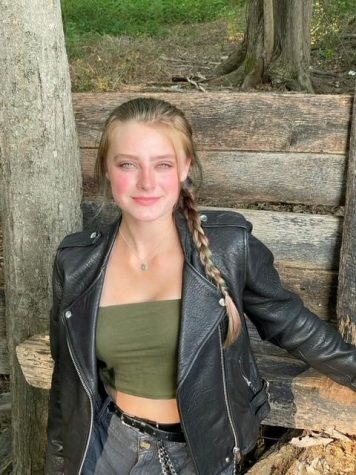 Olivia DeWan, editor-in-chief
Olivia DeWan is a senior, and this is her third year in Newspaper. She loves writing about musicians, sports, and influential students. She will be attending...