News Brief: SCA holds food drive and pies teachers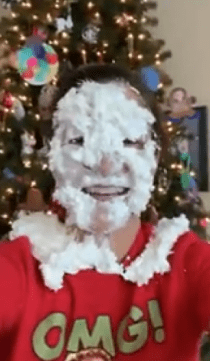 The SCA hosted a canned food drive between December 1 and 14 to give food to Loudoun Hunger Relief. Students brought food to school and donated it in a drop-off box outside. The SCA set up goals to incentivize the student population, all of which were reached. As each milestone was reached, a teacher was pied. The victims included science teacher Kayla Urban, social science teacher James Carr, math teacher Mel Hefty, PE teacher Joel Caruso, and finally at 300 cans, principal Michelle Luttrell was pied. Each pie-ing was filmed and then shared with the school over morning announcements.
"Mr. Prince asked me if I'd volunteer to get a pie in the face for Loudoun Hunger Relief and honestly I didn't hesitate to say yes," said Urban. "It's a great cause and honestly it was a really fun thing to do for the students. I wanted some of them to be in person to experience it, so I brought my advisory class down to my front yard to experience the entire thing live during the homeroom time. My five-year-old and eight-year-old talked about that for weeks. 2020 has been tough. Pies in the face are funny and bring joy. I'd do that for any cause right now to make the students smile."
In total, LCHS raised 471 food items for Loudoun Hunger Relief.