Hybrid Guide: how classes will continue as students switch to hybrid learning
As students return to the building for in person instruction, new guidelines have been put in place to ensure proper social distancing can be maintained within the school.
According to Wayde Byard, Public Information Officer, each school will feature the same setup, with Loudoun County Public Schools staff directed to design classroom layouts for the second semester with the center of each desk spaced at least six feet apart from the center of adjacent desks.
One measure taken to allow for the regulation of six to eight feet of separation between students and staff, is the removal of excess furniture from classrooms in use. During this time when our custodial staff has increased responsibility for cleaning our school, this measure has the added benefit of reducing the furniture our custodial teams have to clean.
Loudoun County High School has a particular need for this because of its unique layout, due to it being Loudoun County's oldest school, opening in 1954.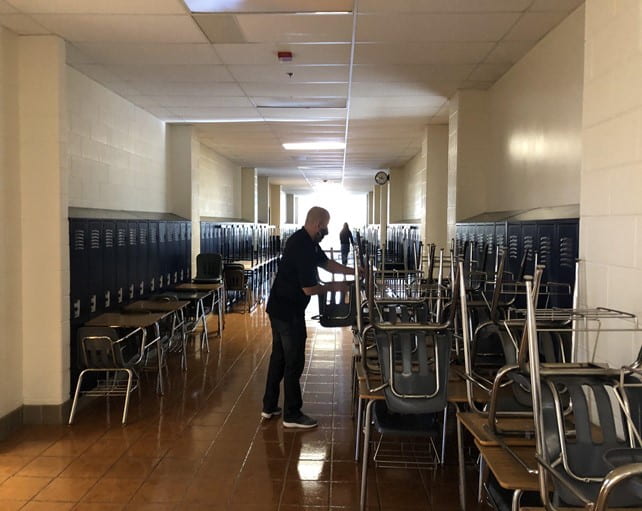 "Our building is beautiful," said Principal Michelle Luttrell . "I love our school, and it has a lot of character, but because it's a school that's been renovated over time we have additions with different layouts and floor plans."
According to Luttrell, our classrooms are not uniform in size, so some classrooms are able to support nine students with social distancing protocols, while others can support 21.
"So any given block, we have such a variance in the number of kids who are in each classroom receiving instruction because our rooms are completely different sizes," Luttrell wrote.
To ensure social distancing in hallways, new precautions have also been put in place.
According to Byard, markers have been placed in hallways and common areas indicating the space necessary to maintain physical distancing. Staggered dismissals have also been implemented to reduce traffic in the hallways.
As of November 23, 831 Loudoun County High School students signed up for hybrid learning as opposed to the normal 1,505 students.
Hybrid students will attend school one A day per week and one B day per week. They will spend the remaining A and B days learning at home, allowing for more manageable social distancing inside of the classroom
Speaking on the reduced numbers, Luttrell said, "In terms of space, that's going to open up a lot of space and help us manage the movement of 415 students. So even though the hallways are oddly shaped and not the same width from one part of the building to the next, I think that with the adults being out and about, and safety and security and admin being out and giving students reminders about maintaining safe distancing, I think our students want to do the right thing."
According to Luttrell, Loudoun County Public Schools have also been provided with new filtration systems by the county, to filter the air as mitigation for COVID-19.
One effect of the implementation of new guidelines is new demands on the budgets of Loudoun County Public Schools.
Anticipating this need, the Virginia state government allocated funding specifically for COVID-19 pandemic-related school costs. According to Byard, on October 8, 2020, the Governor awarded Federal Coronavirus Relief Funds under the CARES Act to school divisions. Loudoun County Public Schools was awarded $14,864,308 as a result.
Specific COVID-19 related budget requirements include things like the filtration systems as well as the enhanced cleaning protocols provided to custodians. These cleaning protocols detail changes to combat the spread of COVID-19.
"The primary changes involve cleaning all of the common area high touch surfaces within the school on a two-hour schedule during the school day and a detailed cleaning of all the classroom high touch surfaces each evening," wrote Byard.
Byard stated that teachers had no requirement to perform additional classroom cleaning, but were offered the opportunity to volunteer for additional training which would enable them to use cleaning chemicals provided for spot cleaning classrooms throughout the day, as needed and when students were absent from the area.
"We are working very hard to keep the schools clean while also minimizing the chemical exposure to our students and staff in the schools," Byard wrote. "LCPS is continuing to use the same hospital grade cleaning chemicals that we have been using for the past six years since we know that they are safe and effective in fighting the SARS-CoV-2 virus that causes COVID-19."
According to Byard, all students will be required to wear face masks during the school day, except for when eating. "Physically distanced individual desks have been placed in some cafeterias, while others have tables with marked seating to keep students physically distanced."
The excess furniture removed from the classrooms includes desks, bookshelves, and cabinets. This furniture is being stored in either unused school classrooms or in leased shipping containers stationed on the school property. This action, specifically the leasing of storage containers, creates another budget mandate. As stated by Byard, the funding to pay for the storage containers is coming from the Loudoun County Public Schools operating budget as well as the federal CARES Act funding provided to help cover these sorts of additional expenses related to the COVID-19 pandemic.
In past years, there has been a very high demand for more bus drivers. With social distancing being taken into account, this demand is being raised.
"The bus drivers are likely going to have to make two bus runs. It's very possible that in one neighborhood they're going to have to come through twice because they have to socially distance students on buses," said Luttrell. As a result, when students arrive at school and pickup time will be affected.
Each school will be provided with a Care Room, which is separate from the Health Office. "The Care Room will be used only for students and staff exhibiting symptoms of COVID-19," Byard wrote. "The Care Room will be staffed by a trained, full-time attendant. Parents/guardians will be requested to come to school to pick up their student if they are taken to the Care Room."
Although students who chose hybrid learning will still be using Google Meet to attend classes with students at home, Luttrell believes that there are many benefits to in person learning. One of these benefits is the connection between students and teachers that simply can't be obtained through a computer screen. "I think there's some level of grounding and just peace of mind that it's going to bring to students who are coming into the school," Luttrell said.
Unlike students, teachers don't have the same options as students. "There is no option for teachers to work virtually unless they are quarantined or have a medical condition that precludes them from coming into the building," wrote Byard. "Teachers who are quarantined or who have a medical accommodation may deliver concurrent instruction from a remote location. When this happens, LCPS will provide a classroom proctor who will monitor behavior, assist with technology, and assist with instruction."
Although some still express their concerns about students returning to in person learning, school board members continue to express their thoughts that it will all end up working out. "I think we're going to be okay, moving 415 students through this school every day," said. Luttrell.
At the time of publication, Loudoun County Public Schools remain in 100% distance learning, as the metrics exceeded the positivity rate of 10% within Loudoun County.
About the Contributors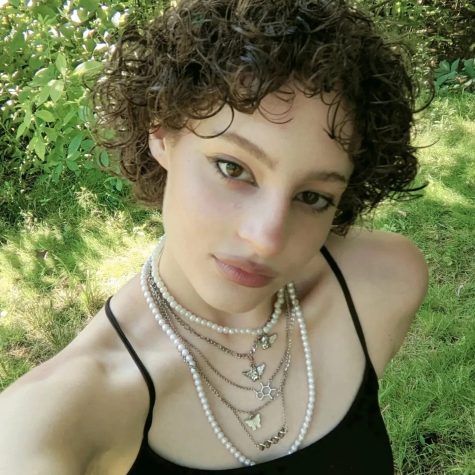 Liberty Harrison, editor-in-chief
Editor-in-chief Liberty Harrison is a senior at LCHS. This is her third year working on the newspaper staff. She would like to one day be an investigative...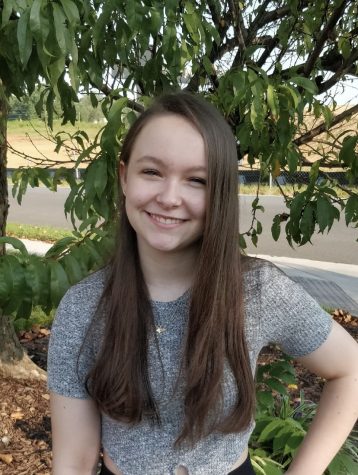 Alexis Shugars, staff writer
Alexis Shugars is a reporter for The County Chronicle, who's interested in writing about a variety of topics. This is her first year writing for the...