Robinson takes on challenge of teaching dual enrollment course
Teaching a new course is inherently challenging, especially in the novel environment of distance learning. This is true for even the most adaptable teachers. Jamee Robinson is licensed to teach English-language learners, English, Algebra I, Administration & Supervision, and Social Studies. New to her resumé as of this year is Dual Enrollment US History.
"It has been difficult adapting a college-level course for students whose faces I don't know," Robinson said. "I prefer using group work and projects in class, and this has definitely been constrained during the pandemic. It feels like I spend most days lecturing, and this goes against the core of how I want to teach." She hopes to change this when possible.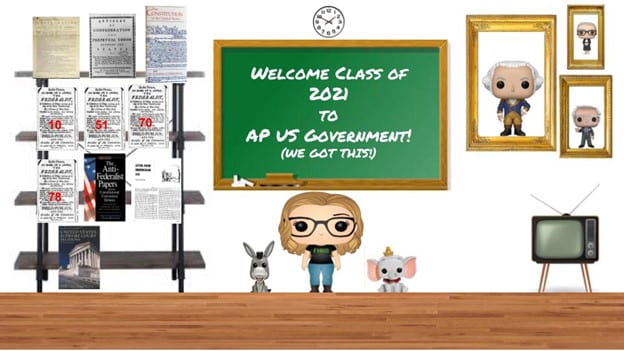 Before she became a teacher, Robinson volunteered teaching immigrants through a charity. Her career officially began in 2008 as an Adjunct Professor for Northern Virginia Community College. Later she taught at Park View High SchooI, then Smart's Mill Middle School. Finally, she transferred to Loudoun County High School and served as the English Language Learners Department chair for two years. For the past three years she has taught Social Science.
Although this unfamiliar situation is onerous to navigate, Robinson's educational journey has served as a testament to her ability to persevere in the face of adversity. After her parents moved to a different state, she couldn't afford to buy textbooks or live in a dormitory. As a result, she funded most of her own undergraduate education, working three to four job positions at a time, including a ghost tour conductor and a waitress at Cracker Barrel. She transferred to different colleges five times during her undergraduate education.
Once she progressed to graduate school, she would work various jobs for 40 hours a week before attending classes at night. Despite this toil, she maintained a positive attitude.
"I felt like I had been blessed and wanted to give back to society," Robinson said. "I funded all of this myself through hard work and persistence."
"While I adored working at Park View, LCHS has been my hands down favorite school," Robinson said. "I love the history and aesthetic of the school, the administration here is extremely supportive and understanding, and the students are extremely caring, talented, and fun to work with. It is also far more laidback than some of the other schools where I have worked."
Robinson lists three reasons behind her decision to begin teaching Dual Enrollment History, a college course at Northern Virginia Community College adapted for high school students. First, a goal "to be a better teacher than I was the previous year… I look for meaningful professional development opportunities."
Second, she explains, is her interest in history and third is her love of being in a classroom, whether it be as a teacher or as a student.
"A former boss once told me that when someone offers you free education – take it," Robinson said. "LCPS offered to foot the bill to have more teachers qualified to teach DE History and I always accept free education. The classes I took were an invaluable addition to my knowledge of U.S. History and I had the opportunity to learn from actual historians."
Outside of the classroom, Robinson cares for her eight chickens, and "will happily spend hours watching them peck and scratch and chase my cats around."
She enjoys horror and sci-fi films, debating history and politics, and participating in "mini-Iron Chef" cooking competitions with friends. "I try to read, but often fall asleep while doing so. Sleeping is also a good hobby," she said.
Despite the challenges of distance learning,, Robinson acknowledges the helpful features of Google Meet that she hopes to somehow incorporate into eventual face-to-face classes. "But nothing replaces the value of an in-school education," she said. "Students aren't asking questions whose answers would benefit the whole class. Evoking class discussion on current events can be like pulling teeth at times. And assessments in general seem to have lost a great deal of meaning."
Robinson appreciates the perseverance of her students in these trying times. "[They] have been real troopers – willing to adapt to change, patient with the technology (and the teacher), and weathering this storm far better than I would have in high school if I had faced these same issues."
About the Contributor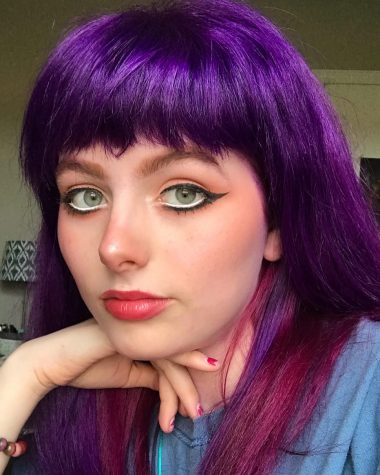 Summer Orledge, staff writer
Summer Orledge is a senior at LCHS who spends her spare time procrastinating, writing speculative fiction, creating visual art, and cuddling with her...