Artist of the issue: guitarist Ryan Robinson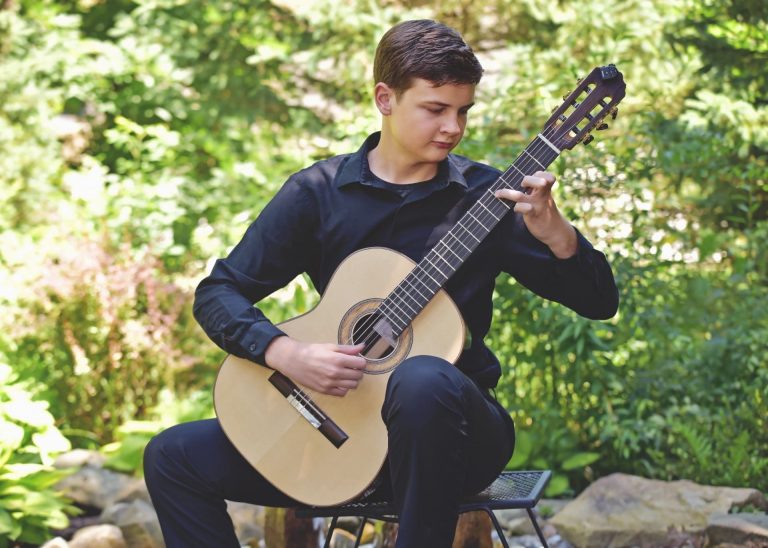 Senior Ryan Robinson has proven that a deep passion can make you succeed if you put in the time and effort. Robinson was chosen as one of 40 guitar students from across the country to be in the first ever All-National Guitar Ensemble in Orlando, Florida and perform for the National Association of Music Educators.
"The ensemble was a significant achievement for guitar education in America, and we hope it will encourage more states to put resources into developing guitar education in their public schools," Robinson said.
Being part of the first All-National Guitar Ensemble put a lot of pressure on him and the other guitar players to have a successful performance. The ensemble practiced eight hours everyday and their hard work paid off to create a great performance and an extremely rewarding opportunity for Robinson.
At home, Robinson works just as hard on his music as he did in Orlando. Outside of school Robinson studies guitar with Mr. Jordan Taylor, a doctoral student at Shenandoah Conservatory.
"I want to build my solo repertoire so I can compete in solo guitar competitions as well as perform recitals," Robinson said.
Robinson has been a member of the Loudoun Youth Guitar Ensemble for five years and is the founding member for the Loudoun Youth Guitar Quartet. His quartet has performed for the National Institute of Health and the Croatian Embassy. To give back to the community, Robinson performs alone at several local retirement homes and at the Leesburg farmers market.
This fall, Robinson was selected for another national ensemble comprised of undergrad, grad, doctoral, and professional guitarists along with high school students. This ensemble will premiere at Carnegie Hall in New York City and then perform in three different cities across France.
"Ryan honestly plays at the level of some professionals and he can only get better," said Ryan's guitar teacher at LCHS, Kareem McCullough.
Robinson has been passionate about playing guitar ever since second grade, when he begged his parents for lessons after seeing an assistant music teacher strum chords in the background of the class.
"I could instantly see that Ryan was an expressive and passionate player and that it was going to be great working with him. It helped to solidify my thoughts that I was right to pick up my life and move here for this job," McCullough said.