Students run year round with indoor track
Anna Claire Mitchum | Raider Staff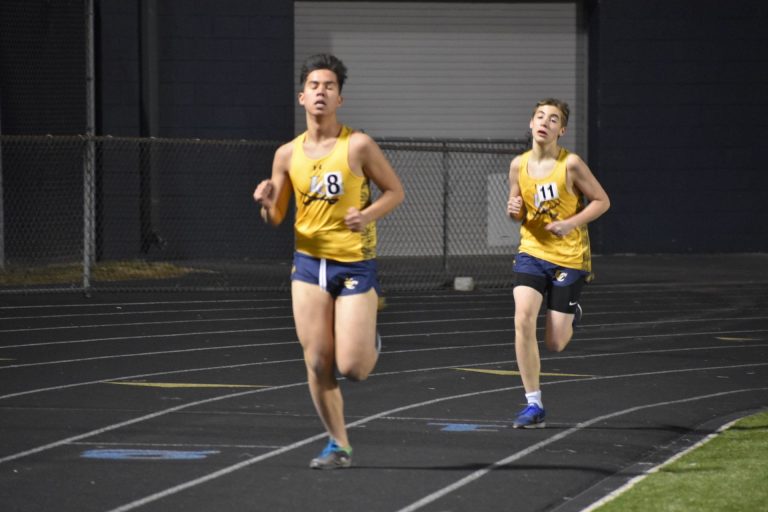 As the sun sets in the cold, students run, seeing their breath hanging in the air like ghosts. They wiggle their fingers to keep them awake and struggle to see in the twilight. This is what student athletes who participate in the new sport, indoor track, go through every practice. Outdoor track and field coach Courtney Campbell started the team last year, and it quickly gained popularity.
"[The athletes] were asking me about wanting to compete indoor and I felt obligated to them. I also felt bad that other schools in the County had teams and we did not," Campbell said.
Two athletes, seniors Jessie Eck and Smith Drupa, who participated in indoor track both this year and last year, said they run indoor to stay in shape during the winter. "I wanted to stay in shape and improve my times for outdoor track," Eck said.
"The number of people involved has more than doubled, I believe, so the team has definitely grown," Drupa said.
"Last year we had about 15 runners and this year we have 48," Campbell said. In past years the cross-country team has had approximately 120 runners.
"The average practice is less than outdoor track because we don't have as much sunlight," Eck said. The team also goes to the weight room after runs. During evenings when the weather is too cold, the team practices inside the school. "We currently only practice as a team three days a week and then usually have a meet on Saturday. We practice from about four till six and try to get outside every day but it's cold," Campbell said.
The meets are sometimes outdoors, while others are at the indoor track at Liberty University in Lynchburg. So far this season, several athletes have broken their own personal records, as well as school and state records.
Although track introduces Campbell to different types of athletes, cross country is his favorite because he likes to run distance. Eck says outdoor track is her favorite because she gets to watch interesting events. Drupa says although he enjoys running distance, indoor track is his favorite due to the intimate group setting.